Cathay Pacific is set to ramp up flying through the end of the year – with flights to more points in its network restored – as it confirms that it is "on course" for recovery.
The optimistic outlook comes as Cathay reported strong improvement in passenger traffic results for September, following the Hong Kong government's move to eliminate quarantine for all arriving travellers.
Airline chief customer and commercial officer Ronald Lam says the airline "remains focused on adding as many passenger flights as we can", as Hong Kong eased travel curbs.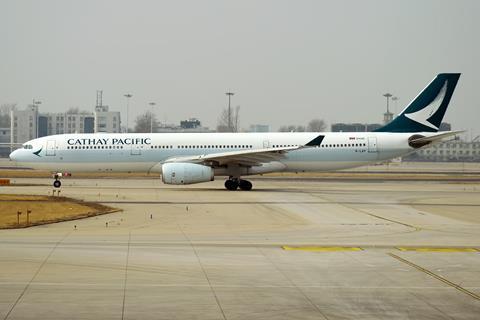 Lam adds: "[Our] target is to double the number of destinations offered by the end of the year compared with the 29 we operated in January 2022, and we are on course to achieving that."
He says that Cathay will increase the number of flights across its network, with popular destinations like Japan – which recently also reopened its borders – and the UK seeing an uptick in flights.
The airline carried close to 266,000 passengers in September: a two-fold increase year on year but still a far cry from pre-pandemic 2019, at just 11%.
Traffic and capacity both stood at about 16% pre-pandemic levels too, but improved significantly compared to 2021.
Lam says that student travel – from both Hong Kong and the Chinese Mainland to the UK and USA – were key in driving up traffic numbers.
"Demand for student travel to the US tapered down from the second week of September, but this was balanced by growing demand among UK-bound student traffic," he states.
More significantly, the airline says inbound traffic results have improved following the easing of curbs.
"The removal of hotel quarantine arrangements for passengers arriving in Hong Kong was a very welcome development that has helped boost sentiment for travel. In the last week of September, we saw a considerable increase in demand for flights to Singapore, Bangkok and Seoul," Lam states.
While the airline's passenger traffic improved in September, cargo – a traditionally outperforming segment for the airline – showed signs of weakening.
Lam says the 28% drop in cargo traffic "was greater than predicted", as he attributes the drop to weaker consumer demand and reduced manufacturing activities in the China.
He adds: "Regarding cargo, as we resume more passenger flights, the additional cargo capacity provided by the bellies of our passenger aircraft will complement our full freighter schedule, enabling us to offer extended routings and more consistent services to our cargo customers."