After bottoming out in April, China's three largest carriers saw a marginal uptick in their domestic traffic in May, though demand remains weak despite a slight easing of onerous pandemic curbs.
Still, traffic results from the Big Three' - comprising Air China, China Eastern Airlines and China Southern Airlines - showed a significant decline year on year, as China's airline sector struggles to pull through the latest round of movement restrictions.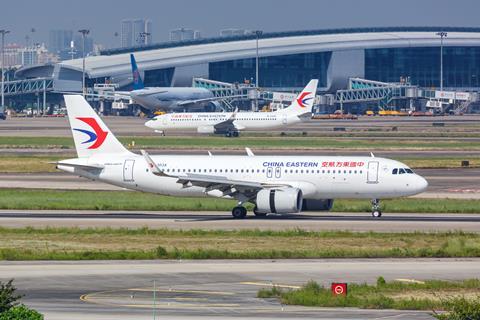 Air China flew close to 1.8 million domestic passengers in May, a 37% rise against April.
Capacity and traffic, meanwhile, were up 37% and 40% respectively month on month.
Compared to the same period in 2021, Air China saw its passenger numbers plunge 78%, while capacity shrank 70% and traffic fell 78%.
China Eastern, whose Shanghai hub briefly exited a long-drawn lockdown in May, carried 1.5 million domestic passengers, about 76% higher month on month.
Against 2021, the SkyTeam carrier reported a 84% plunge in passenger numbers, with capacity falling 79% and RPKs declining 83%.
As for China Southern, it flew around 3.4 million passengers in May. The figure is a 54% rise against April numbers, but a 71% year-on-year decline.
Domestic traffic rose 59% month on month, with capacity increasing 49%. On a year-on-year basis, the Guangzhou-based carrier saw traffic and capacity decline 71% and 61% respectively.
The latest traffic results are among the lowest levels seen since the early day of the pandemic, which began in China.
The 'Big Three' saw domestic traffic nosedive to a record low in April, amid sweeping lockdowns in various parts of the country, including key hubs such as Shanghai and Beijing.
China's strict adherence to a zero-infection policy has meant that international borders remain tightly shut, and uncertainty over domestic traffic recovery, with lockdowns swiftly imposed when cases are detected.