Domestic flights in China have entered a steep downward trend in the past few days, according to data released by Eurocontrol, as the country approaches its traditionally busy Lunar New Year holiday period amid a jump in Covid-19 cases in some regions.
On 25 January, the number of domestic flights was down 36% versus the same day in 2019, at 7,590 – the lowest total since May 2020, Eurocontrol data shows.
Figures had reached near-parity – and sometimes exceeded – pre-crisis levels in the final few months of 2020.
Indeed, domestic flights were on an upward trend from late February 2020 onwards, having plummeted to fewer than 2,000 per day as the severity of the Covid-19 situation became apparent in late January.
With China saying it had brought the virus under control, domestic flight numbers trended upwards until they exceeded 12,000 per day at several points in October 2020 around the Golden Week holiday.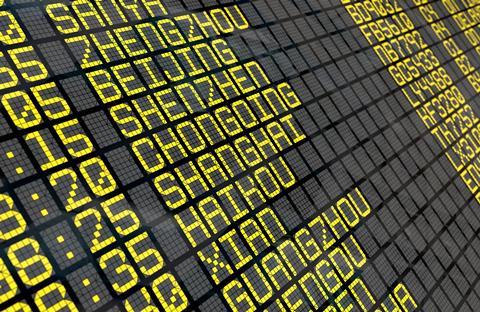 A minor downward trend began in December, but this accelerated from mid-January, Eurocontrol data shows, as the government introduced containment measures amid concerns about coronavirus cases in places such as Beijing and the northeastern province of Heilongjiang.
At the same time, with the Lunar New Year period approaching, local authorities have discouraged non-essential travel.
Eurocontrol is the air traffic management body for the Europe region, but also releases a regular Covid-19 impact assessment that covers international markets.
It notes that international flights touching China have been largely stable at a low level since March 2020.