Heathrow Airport and three of its leading operators have lost their respective appeals after the UK's competition watchdog confirmed it had broadly backed the UK CAA's ruling on airline charges through until 2026.
The airport operator had argued higher price controls were necessary to give it sufficient revenue for the required investment in the facility, while the airlines – British Airways, Virgin Atlantic and Delta Air Lines – pressed for lower charges arguing the airport operator was too pessimistic in its traffic forecasts.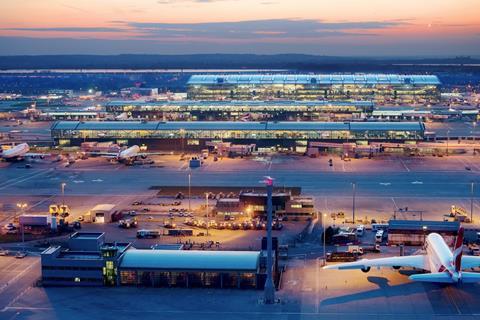 In March, the CAA essentially split the difference in deciding charges for 2023 would be fixed at the £31.57 ($37.37) per passenger interim cap but that the average maximum price per passenger would then fall by about 20% to £25.43 in 2024 and remain "broadly flat at that level" until the end of 2026. That decision was appealed by both the airport operator and airlines.
The Competition and Markets Authority (CMA) has now firmed last month's preliminary assessment that the CAA was not wrong in most of the decisions that were appealed. The CMA process was focused on whether there were errors in the CAA's evaluation, rather than re-evaluating the original decision.
Kirstin Baker, chair of the group making the decisions on the appeals, says: "Having considered these appeals, we found that the CAA's Heathrow price control struck broadly the right balance between ensuring prices for passengers are not too high and encouraging investors to maintain and improve the airport over time.
"There are a handful of smaller issues we have ordered the CAA to look at again and it has agreed to do this swiftly," she adds. The CMA though judged these to have only a small impact relative to the CAA's overall decision.
Following the decision, Virgin Atlantic says it is "disappointing" that the CMA has largely endorsed the original decision.
"Heathrow Airport's repeated attempts to impose excessive charges demonstrate how the regulatory framework, including the formula used to set charges at the world's most expensive airport, is broken," it says.
"With fresh leadership at both the CAA and Heathrow, now's the time for a fundamental review of how these charges are set, ensuring that customers are protected ahead of shareholders. Heathrow must work collaboratively with airlines to ensure it gets back to its best, so it can deliver a world class experience commensurate with being the world's most expensive airport."
Long-standing Heathrow Airport chief executive John Holland-Kaye steps down from the role on 18 October, to be replaced by Copenhagen airport boss Thomas Woldbye.
"We're naturally disappointed, but it's time to move on," the airport says. "We will do our best to deliver the outcomes that passengers told us they wanted within this tight framework.
"Going forward, the CAA needs to take more account of the views of consumers so that the settlement delivers the Heathrow experience passengers are looking for and not just higher profits for airlines."