German leisure carrier Condor Airlines plans to launch a new transatlantic route between Frankfurt and San Antonio in May 2024.
Now available for booking on Condor's website with flights starting on 17 May, the route will be operated with the carrier's growing fleet of Airbus A330-900neos.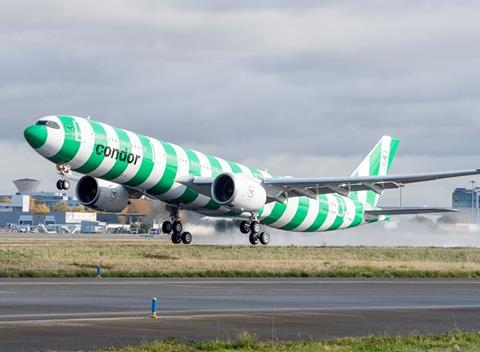 San Antonio International revealed the route in a 21 September post on the social media platform X, formerly known as Twitter.
"Germany and beyond just got a whole lot closer," the airport says, adding that it is "thrilled to announce" San Antonio's first non-stop flights to Europe.
San Antonio's business leaders have recently pushed for non-stop flights to Europe, focusing on flights to Frankfurt and London and offering airlines incentives to establish such routes, according to local media reports.
International flights directly from San Antonio are currently limited to vacation destinations in Mexico, according to the airport's website.
Condor did not respond to a request for comment on its plans for operations between its base in Frankfurt and San Antonio.
The carrier said on 6 September that it plans to launch seasonal, thrice-weekly flights from Frankfurt to Miami next summer. Condor will also resume twice-weekly flights from Frankfurt to Calgary International airport.
In December, Condor took delivery of its first A330-900neo, marking the beginning of its plan to replace its older A330-200s and Boeing 767s.
"Condor expects to receive a total of 18 new long-haul aircraft as part of its overall long-haul fleet renewal program, which is scheduled to completely replace the current 767 fleet by 2024," the carrier said earlier this month.
Condor currently has nine A330-900neos in service and nine more of the type on order, according to Cirium. The twin-engine widebody aircraft are configured with 310 seats in three classes, including 30 in the business cabin and 64 premium-economy seats.