Wizz Air chief executive Jozsef Varadi sees a "major opportunity" for his carrier to expand into the vacuum left by retrenching competitors amid the Covid-19 crisis.
During an online broadcast by the UK's Aviation Club, Varadi said Wizz had been "waiting for a crisis" to emerge since the financial crash of 2008/9, given the role of recessions in shaking out weaker players.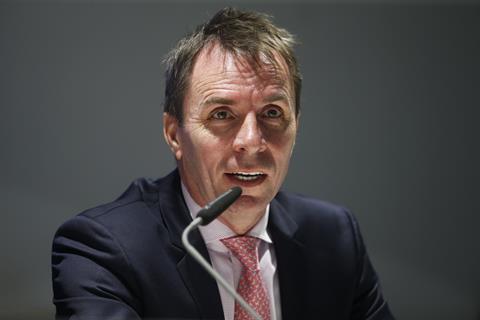 "Of course we didn't know it would be Covid," he adds, "but we knew any crisis would be an opportunity… It sorts winners from losers."
Varadi's confidence that Wizz will emerge as the former appears bulletproof. "This is a commodity business, and the lowest cost prevails," he says, opining that his airline can offer the lowest fares in Europe – an advantage he expects the pandemic to only accentuate.
This is on the basis that, in contrast with many carriers, Wizz has continued to accept new aircraft throughout the crisis, taking 12 Airbus jets since March, and with a further 40 due for delivery over the next 15 months. This will continue to bring down the age of the fleet and reduce costs.
Many airlines have meanwhile been slashing aircraft deliveries as they look to cut all but essential spending.
"Not only are we using our unit cost [advantage] versus the industry, but the industry is going to increase its unit cost with an ageing fleet," says Varadi.
A younger, more efficient fleet has, he notes, the double benefit of bolstering the carrier's environmental credentials, something of growing importance to passengers.
Continued market diversification is another of Wizz's core strengths, Varadi contends.
Whereas some airlines have withdrawn to their key routes, Wizz is flying to 85-90% of its usual destinations, axing flights only when government restrictions make operations effectively impossible – "and we will be resuming the balance when we can, from a restrictions point of view".
Wizz's capacity is at about 45% of last year's levels, but it has launched more than 200 new routes in the past five months, and opened 12 bases.
"Some of our competitors are contracting in a big way and leaving a market vacuum behind them – of course we make sure that we take advantage of that," says Varadi.
In addition, the carrier's Abu Dhabi unit, a joint venture with the city-state's government, has recently received its air operator's certificate and is preparing for the start of operations.
Securing financing has been a challenge for many carriers, but, again, Varadi believes Wizz has in this area been able to plot a smooth course amid the crisis. Other than securing one support loan from the Bank of England, something he describes as "more like testifying our standing in the market", the carrier has not taken any significant liquidity measures. This "shows the resilience of business model", Varadi argues, adding: "We didn't need to raise equity or borrow money."
Again, he draws a contrast with competitors. Many, Varadi suggests, will not make it to the other side of the crisis. Although some will be able to access government support, this is not available to the majority.
"There will be less players in the industry," Varadi predicts. "This is not rocket science. Out of 3,000 or so flying around the globe, not 3,000 are going to survive."