Delta Air Lines and Aeromexico plan to operate nearly the same amount of capacity for transborder flights in December as they did during the same month of 2019.
The airlines, which launched a joint cooperation agreement (JCA) on transborder flights in 2017, will offer more than 4,300 flights between the two countries next month. This reflects a "95% recovery" in ASKs compared with December 2019, the airlines state.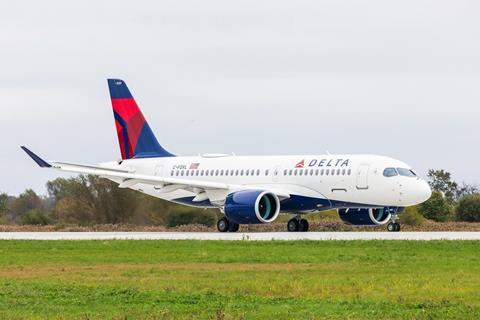 Together, the two carriers will offer more than 45 transborder routes in December. Delta will connect several Mexican destinations including Cancun, Mexico City and Los Cabos to US cities such as New York, Los Angeles and Atlanta. It will also offer flights between Mexico and Detroit, Minneapolis-St. Paul, Salt Lake City and Seattle. Aeromexico will fly to several US destinations such as Chicago and Los Angeles from Mexico City and Guadalajara.
Mexico is one of the only countries in the Latin America region that did not implement a widespread shutdown of its aviation industry. IATA's regional vice-president for the Americas Peter Cerdá recently commented that the country has seen a strong recovery in both domestic and international markets as a result.
Delta recently reported that it will continue blocking its middle seats in economy class through March.