Delta Air Lines and Chilean airline company LATAM Airlines Group have applied to the Department of Transportation (DOT) for blanket approval to operate codeshare routes within each others' networks.
The codeshare agreement, signed by the airlines on 25 May, seeks for the carriers to operate flights under each other's identification between, within and beyond the United States and Chile. The deal also covers flights operated by Delta Connection's US regional affiliates SkyWest Airlines, Republic Airways and Endeavor Air.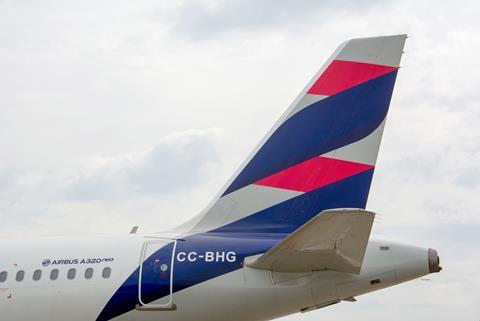 "These new codeshare services will create substantial benefits for passengers travelling between the United States and Chile, and will enable Delta and LATAM Airlines to offer a more integrated experience for customers and market their services more effectively," the airlines write in their filing to the DOT on 5 June.
The proposed agreement "will enable Delta and LATAM Airlines to provide valuable US-Chile and third-country codeshare services that will enhance airline competition on international routes to the benefit of passengers and shippers, and expand the Delta and LATAM Airlines networks," they say.
Last September, following a Chilean court's decision to deny American Airlines a proposed joint venture with Santiago-headquartered LATAM, competitor Delta jumped in to invest $1.9 billion for 20% of the Latin American airline. That transaction closed at the end of 2019.
But as the coronavirus pandemic gripped the travel industry early this year, LATAM found itself forced to file for bankruptcy protection with the US Bankruptcy Court of the Southern District of New York on 26 May. In its filing, the airline cited liquidity problems and said bankruptcy protection would help it "transform its business" as it awaits recovery.
On the same day, Atlanta-based Delta doubled down, saying that it remains "fully committed" to the venture.
South American governments have not been as forthcoming with financial assistance to airlines as have governments in other regions. As a result, some Latin American carriers have faced a particularly acute cash squeeze, which has hindered their ability to ride out the downturn, industry group IATA has said.
LATAM in particular suffers under a heavy leasing burden, and with no income from travelling customers, the company has found it hard to pay bills, LATAM's court papers say.