Could the coronavirus pandemic cause a long-term bump in air travel from small- and medium-size airports?
Delta Air Lines thinks it might.
Work-at-home policies and related Covid-19 factors have already led many Americans to relocate their lives from larger to smaller cities, says Delta senior vice-president of network planning Joe Esposito.
"Now big cities are getting smaller," Esposito says during the Boyd Group International's Aviation Forecast Summit on 12 October. "The forecast of where people live and move has changed. We are writing that new forecast."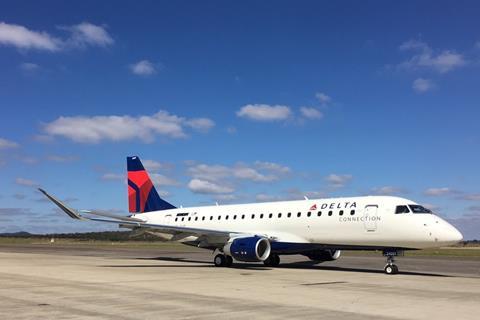 He notes, for instance, that many New Yorkers are moving to smaller cities like Syracuse, and to towns in Connecticut and New Jersey. Others are moving to Florida.
"Some people don't want to live in New York City," Esposito says. "New York may [not] come back for more years than we'd like."
Delta in recent years pulled out of some smaller cities and reduced its regional network. In 2011, for instance, eight regional airlines operated 1.2 million flights for Delta. By 2019, that figure had slipped 32%, to 812,000 flights operated by six regional airlines, according to Cirium fleets data.
Currently, only three regional carriers – Endeavor Air, Republic Airways and SkyWest Airlines – operate regional aircraft for Delta.
Esposito says changing market conditions could lead Delta in the coming years to assign narrowbody jets to routes currently operated by regional aircraft like Embraer E-Jets, and to assign E-Jets to routes operated by MHI RJ Aviation CRJ200s.
Questions about shifting demand come as international travel remains badly impacted by the Covid-19 pandemic.
"People just can't move internationally," Esposito says, citing travel restrictions and threats of quarantine.
"We have to be really, really careful about how we deploy international… We have to do it at a much more measured pace," he says. "Domestic is coming back much faster than international, and that will likely be the theme in 2021."