Delta Air Lines will resume flights between the US and China this week, making it first US carrier to do so since the beginning of the coronavirus pandemic, as travel restrictions and regulatory sparring between the countries' aviation authorities ease.
The Atlanta-based airline says on 22 June that its weekly flights between Seattle and Shanghai via Seoul will begin this week. In July, it will reinstate weekly flights to Shanghai from Detroit. The routes will be serviced with the airline's Airbus A350-900s.
"We are excited to resume our services between the US and China, as economic and social activities start to recover," says Wong Hong, Delta's president for greater China and Singapore.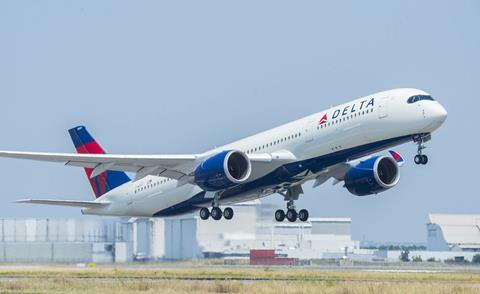 In the past two months, Delta had operated cargo-only flights to Seoul and Shanghai from Detroit and Los Angeles. But passenger travel was halted due to a regulatory spat between the two countries.
Earlier in June, a tit-for-tat squabble between the US Department of Transportation (DOT) and the Civil Aviation Administration of China (CAAC) threatened to halt flights between the two countries indefinitely.
Shortly after the coronavirus crisis had been deemed a pandemic by the World Health Organization in March, China restricted inbound international flights – a bid to stem the number of imported cases. That order prohibited carriers from adding more capacity than they had in schedules on 12 March – a date on which US airlines had no China flights.
In May, Delta Air Lines and United Airlines applied to the CAAC for authority to resume passenger flights between the two countries as cases waned, but he CAAC denied their requests. On 3 June, the DOT responded by blocking Chinese airlines from flying to the USA from mid-June.
But the CAAC soon relented, allowing US carriers to fly a combined four weekly flights to Mainland China, according to the US DOT. That agency then granted the same authority to Chinese airlines.
United's flight schedules show it will resume service to China in late July, with flights from San Francisco to Shanghai. United's August schedules also include flights from Newark and San Francisco to Beijing, San Francisco to Chengdu, and Newark to Shanghai.