Delta Air Lines has cancelled its flights to Israel at least through October as the security situation in the Middle East deterioirates, but says it may add more flights to Europe in order to help get travellers back to the USA.
Chief executive Ed Bastian told analysts on 12 October that the airline has an exposure of 1% of total capacity as measured in available seat miles (ASMs) on its flights to Israel, and it is keeping a close eye on developments in the volatile region.
"We don't know how this will evolve yet," he says.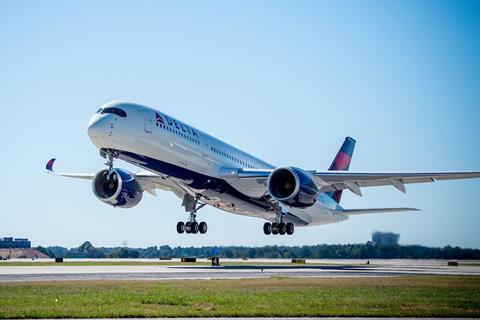 When asked if the airline is considering operating repatriation flights for Americans attempting to return home, Delta's executives say nothing has been decided. The airline has offered travel waivers for passengers who had been boooked on the flights between the USA and Tel Aviv's Ben Gurion airport until 31 October.
"Right now we are looking at providing some additional lift to Europe but we have no plans to be flying into Israel," Bastian says. "It is considered unsafe for US aircraft to be operating in that airspace currently."
According to Cirium, Delta operates connections to Tel Aviv from Boston, Atlanta and New York's John F Kennedy International airport.
"Delta will continue to explore options for customers to safely exit TLV via seats that become available on our partner airlines," the airline said on 9 October..
US competitor American Airlines said earlier this week that it has suspended its connections to Tel Aviv airport through the beginning of December.
Local media reports say that people looking to leave the conflict zone are having difficulty finding seats on departing flights as many carriers have suspended the routes, and the flights still operating are completely booked.
Delta will "evaluate restarting flights to Israel" as the situation develops, adds the carrier's president Glen Hauenstein.
Bastian also said the airline is donating $1 million to the American Red Cross to help fund humanitarian efforts by the International Committee of the Red Cross.