Arajet, the Dominican Republic low-cost start-up carrier that launched operations in September 2022, will begin flying to Canada on 24 October.
The airline says on 17 July that it plans four-times-weekly service between its home base of Santo Domingo and Toronto's Pearson International airport. It will offer connections to Cartagena, Medellin, Aruba, Curacao, Saint Marten, Kingston and Sao Paulo, through Santo Domingo.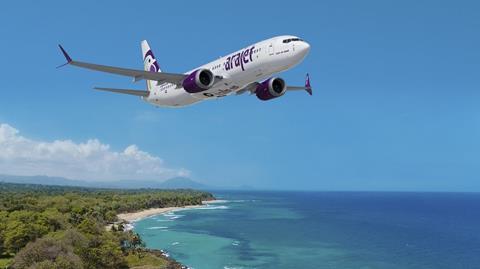 "Canadians will be able to enjoy the privileged location of our low-price hub in the Dominican Republic to connect with dream destinations in the Caribbean throughout the year," Víctor Pacheco Mendez, the carrier's chief executive, said on 17 July.
The airline, which operates a fleet of five leased Boeing 737 Max aircraft, is looking to add more leased jets to its fleet this year and has 20 Max jets on order with Boeing, the first of which it expects to receive in 2024.
In March, the company applied to the US government to fly routes between the Dominican Republic and the United States. Currently only US-based airlines operate flights between the countries.
Arajet is requesting to fly to San Juan (Puerto Rico), Miami and New York. In the 1 March filing with the US Department of Transportation, the airline said it aims to begin the flights in autumn 2023. It currently flies to 18 destinations in 13 countries across the hemisphere.