The US Department of Transportation (DOT) intends to collect additional passenger ticket data from airlines as part of an overhaul of its Origin-Destination Survey.
The agency on 19 January released a proposed rule that would require a broader swath of airlines to submit data. The DOT also proposes that airlines be required to submit more ticket data and to do so monthly, not quarterly.
For years, the US has required that large US passenger airlines submit a "10% sample of airline tickets" to the DOT every quarter. Required ticket data includes the dollar value of tickets and travellers' starting and ending points.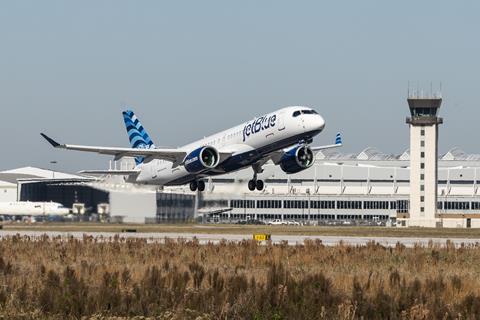 The DOT exempts airlines that operate aircraft with less than 60 seats from participating.
The data, which the DOT publishes in its quarterly Origin-Destination Survey, can be used to "plan air services, develop commercial aviation infrastructure, measure the economic impact of passenger flows and create business plans for start-up airlines", says the DOT.
But the agency says its current requirements are based on "accounting processes long abandoned by airlines". As a result, the data does not reflect "today's decentralised and integrated industrywide practices…and, in some cases, is not capable of accurately documenting consumer behaviour."
The DOT's 19 January proposal includes several updates. It would eliminate the exemption for airlines that operate aircraft with less than 60 seats, meaning all scheduled passenger airlines, including commuter carriers, would be required to submit data, the proposed rule says.
Additionally, the DOT intends to require that carriers report data from 40% of their tickets – not 10% – and that they do so monthly – not quarterly. Data would be due 45 days after each month ends.
The DOT also wants airlines to report new data points. Those include include "dwell time", which is how much time passengers spend at airports between flights, and the total tax paid by passengers. Collecting tax data will help define "the effect of government policy on aviation and allow data users the ability to separate taxes paid from the total fare", the proposal says.
As with current regulations, the DOT is proposing that foreign carriers only be required to submit data if they have been granted immunity from anti-trust laws – generally meaning foreign carriers that operate joint ventures with major US airlines.
The agency is accepting public comments about its proposal through 19 March. It intends for the new rules to take effect within one year of the final rule's adoption.
The DOT last proposed an overhaul of the survey in 2005, but that effort eventually failed amid pushback from airlines.