European low-cost carriers EasyJet and Wizz Air are remaining focused on their plans for a strong summer season, despite the near-term uncertainty created by the emergence of the Omicron variant of concern of the coronavirus.
The appearances of EasyJet chief executive Johan Lundgren and Wizz Air president Robert Carey at the World Aviation Festival in London today came with the industry still waiting to understand the scale of impact of the Omicron variant, which has already prompted governments to at least temporarily tighten travel restrictions.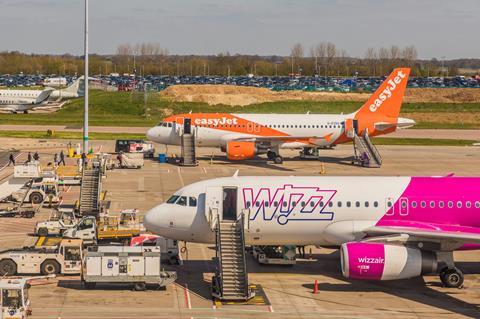 For Lundgren it marked a second consecutive day fielding such questions after the airline's full-year results announcement yesterday was overshadowed by the fresh concerns.
"Normally when you present the full-year results there is a lot of discussion about the full-year results, and I don't think I've ever done one like that where there was very little focus on the year gone by and a lot of focus on the recent developments," says Lundgren.
He reiterates his message from yesterday that it is too early to tell what the long-term impact of the latest developments on travel demand will be.
"There is a softening, we have definitely seen that," he says, though noting the impact has not been as severe as followed previous travel restriction announcements and that it has largely hit very near-term bookings.
"There were some people transferring out into the early part of next year, we saw leisure destinations are holding up better than city routes, and we saw domestic [routes] holding up better.
"There's going to be continued uncertainty and that is what we thought the winter would be. If this affects peoples' planning for the summer, which is normally peak booking time between Christmas and January, we just have to wait and see.
"We need to give this a bit more time to make a judgement on where this is going," he says. "But underlying there is no doubt we are in the recovery track."
EasyJet set out an upbeat view on the outlook for next summer, saying it expects to be approaching pre-crisis levels in the July-September quarter.
"This has always been part of something we recognized the nature of the virus meant that would evolve, it would come out with variants of concern, so therefore we have been quite cautious with our thinking for the winter. And then we believe it will strongly pick up in the summer," Lundgren says.
Carey at Wizz meanwhile similarly says the airline has grown used to rolling with the punches during the pandemic.
"This has become a bit par for the course over the past 18 months," he says. "We find a new norm. Something disrupts it, We adapt. It's a bit of a roller-coaster.
"For us its been pretty much the same playbook we have been seeing. We will adjust up as we need to and adjust down as we need to, and roll with the restrictions as they change."
Wizz has aggressively sought to return capacity and enter new markets since the pandemic first hit and Carey points to the resilience of its model.
"The core of our business, 65%, is worker and [visiting friends and relatives] traffic. And those people still need to travel with or without the pandemic," he says.
"We at this point expect to be fully back, we will have 170 aircraft next summer – that is more than 50% more than we had of pre-Covid capacity and we expect that full capacity to be up and flying, with full planes again."