European low-cost carrier EasyJet expects to fly 60% of its pre-crisis capacity in the three months ending 30 September after operating less than a fifth of capacity in the previous quarter.
EasyJet operated just 17% of capacity and flew less than 3 million passengers in the third quarter of its financial year – the three months running to 30 June 2021.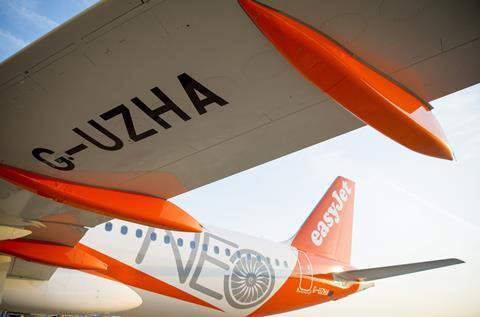 More than half of these passengers were carried in June alone, a month in which load factor climbed to 72%, as travel restrictions began to ease. It had flown just half a million passengers at a load factor of 52% in April.
While revenues of £213 million for the quarter were up on the on £7 million it generated in the same months of 2020 – during which the carrier's fleet was all but grounded – it remains sharply down on pre-crisis revenues of £1.76 billion for the same period in 2019.
The carrier says tight capacity management helped it reduce cash burn in the quarter to £55 million, against £469 million in the previous quarter. The headline pre-tax loss of £318 million was an 8% reduction on the £347 million lost in the third quarter of 2020.
EasyJet chief executive Johan Lundgren says: "During this quarter we have successfully managed through the continued challenges of the pandemic, using our operational responsiveness to capture demand while focusing on cost control and minimising cash burn.
"We have used our existing strengths like our network with renewed purpose – pivoting capacity to Europe where we saw the strongest demand."
EasyJet though aims step up its capacity to 60% of pre-crisis levels for the fourth quarter of its financial year, in line with the easing of Covid travel restrictions. Notably it is pivoting some of its capacity away from the UK to EU markets, where less onerous travel restrictions are in place and demand is stronger.
"As a result of the current divergence in government travel policies, EasyJet's bookings for this summer are heavily skewed towards continental Europe. Whilst our business is normally split 50-50 between the UK and Europe, at present two-thirds of bookings are coming from Europe," the airline says.
It highlights capacity switched to its summer bases of Faro, Malaga and Palma de Mallorca, increased flying on leisure routes from Amsterdam and Berlin, as well as on domestic routes in France and Italy.
"We remain confident about demand for travel this summer and into autumn, due to the bookings surges experienced following selective easing of travel restrictions," EasyJet says, adding no-show rates have dropped to an average of 4% across the network.
EasyJet has cut its fleet by around 10% since the pandemic, from 342 aircraft to an expected 307 by the end of September.
However, it will this autumn resume taking delivery of aircraft. It will receive eight Airbus A320neos in its 2022 financial year, raising its fleet to an expected 317 jets. The airline will take seven more aircraft in its 2023 fiscal year and 18 in 2024 – though its baseline projection of a fleet 331 by the end of 2024 would still be below pre-crisis levels.
The airline notes it has 38 aircraft coming off lease over the next 15 months and that it has already commited to extend terms on some of these on what it calls "very favourable operating lease conditions".