European regulators are continuing to evaluate slot rules for the coming winter season in light of likely lower traffic volumes as European transport commissioner Adina Valean says it is too early to say when the 80:20 use-it-or-lose-it slots rules will return.
Regulators temporarily suspended the requirement for airlines to operate 80% of landing and take-off slots in order to retain them for the following year's season as traffic demand collapsed due to the pandemic.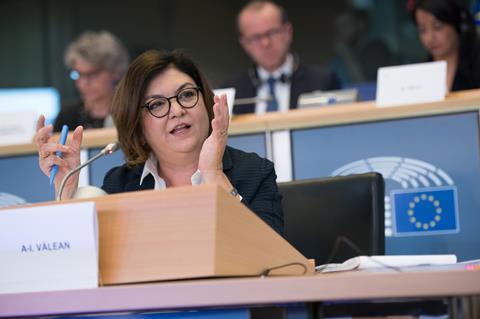 While the emergency action prevented airlines from having to fly empty aircraft purely to retain their slots, the likes of Wizz Air argued the rules prevent new entrants from filling capacity at slot-constrained airports.
As a first step to normalising the rules, airlines during the current European summer season have been required to use a minimum of 50% of their take-off and landing slots in order to retain them for 2022.
Addressing the Airlines for Europe (A4E) Aviation Summit 2021 on 10 June, Valean acknowledged the emergency waiver has had unintended negative consequences on competition.
"It is clear air traffic is not going to recover to pre-pandemic levels, so we cannot expect you to operate the normal 80% of the slots," Valean says of the coming winter. "So since we have the possibility through the regulation to give further relief from the normal slot rules, we will adopt probably…a new slot-use threshold for the winter.
"We are currently gathering data and trying to monitor how air traffic develops, which changes regularly. At this stage I cannot say when the 80:20 rule should apply again," she says.
Eurocontrol says flights in Europe stood at 39% of 2019 levels in May and forecasts these will be at about 50% of these levels for the year as a whole. Under its baseline scenario, Eurocontrol forecast flight in Europe would reach 57% of 2019 levels in August, before ending the year at 70% in December.