Eurocontrol is projecting flight activity will end the year at 92% of pre-crisis levels, under a new base scenario forecast for traffic development in Europe for the rest of the year.
While it believes traffic could reach as high as 96% of 2019 levels under its best-case scenario, it also cautions that challenges remain, which could result in a lower-growth scenario where flight activity is still only at 83% of pre-crisis levels.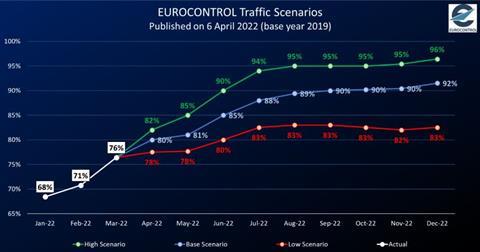 Eurocontrol director general Eamonn Brennan says: "Aviation has continued to recover well over the last few weeks, and there has been a steady climb from 68% in January, rising to 79% by the start of April compared to 2019 levels, even factoring in the impact on the network and on fuel prices of the unprovoked aggression by Russia against Ukraine.
"Airlines are adding lots of capacity, and some airlines are already outperforming their pre-pandemic levels," he says.
Under its base growth scenario, Eurocontrol sees flight activity climbing from 79% currently to 88% by July. Growth would then moderate across the second half of the year.
"Hitting 90% or more of 2019 traffic at peak summer moments is firmly on the cards, and we expect holiday destinations and some other parts of the network to exceed 100% of their 2019 levels," says Brennan.
Eurocontrol's base scenario would see flight activity for 2022 as a whole average at 84% of pre-crisis levels.
"Clearly, however, there are still some downside risks related to continued geopolitical tensions that could further impact fuel prices and economic conditions, as well as the possibility of new Covid variants," Brennan warns. "We're also seeing staff shortages in parts of the industry, particularly at airports in key roles such as airport screeners or ground handlers, and this needs to be carefully managed.
"Should any of these factors come into play, traffic could slide towards the levels envisaged in our low scenario."
The forecast for the next six months appears consistent with a seven-year traffic projection Eurocontrol issued last October, in which it envisaged a return to pre-crisis flight activity by the end of 2023 under its base-scenario.