Regulators have outlined plans to ease restrictions into European Union states for travellers that are either fully vaccinated against the coronavirus or from countries where the pandemic has been controlled.
The European Commission's proposal, which paves the way to reopening EU tourism markets, reflects progress of vaccination programmes and scientific evidence of their role in breaking the transmission chain.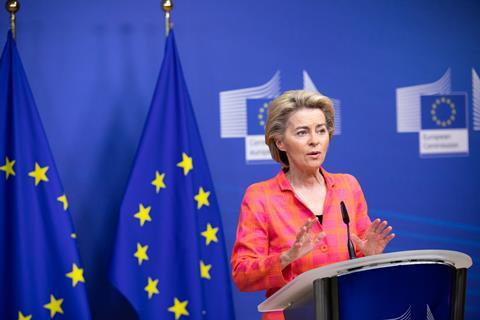 Commission president Ursula von der Leyen today tweeted: "Time to revive EU tourism industry & for cross-border friendships to rekindle – safely. We propose to welcome again vaccinated visitors & those from countries with a good health situation.
"But if variants emerge we have to act fast: we propose an EU emergency brake mechanism," she adds.
The Commission's proposal, released on 3 May, would allow travellers into the bloc who have received their last dose of an EU-approved vaccine at least 14 days before arrival.
It envisages travellers proving their vaccination status with a "Digital Green Certificate" issued by EU states, or with other equivalent methods of proof. The EU put forward its Digital Green Certificate proposals in March. EU members should accept certificates from non-EU countries based on national law, says the commission.
The Commission says non-vaccinated children should be able to travel, but only if travelling with parents who have been vaccinated. Children would also need to test negative for Covid-19 no more than 72h before arrival. Member states could require additional testing after arrival.
Non-essential travel, regardless of a person's vaccination status, is currently permitted from seven countries with a "good epidemiological situation", the Commission says.
The proposal would account for the positive impact of vaccinations. Current guidelines bar non-essential travel to the EU from countries with Covid-19 case rates greater than 25 per 100,000 people. The Commission now proposes upping that threshold to no more than 100 cases per 100,000 people, allowing EU ministers to expand the countries from which non-essential travel is permitted.
However, the Commission proposes a new 'emergency brake' mechanism that would limit the risk of new virus strains entering the EU.
"This will allow member states to act quickly and temporarily limit to a strict minimum all travel from affected countries for the time needed to put in place appropriate sanitary measures," it says.
The Commission says discussion of the proposals by the European Council of Ministers is to due at a technical level in its integrated political crisis response meeting on 4 May, followed by an EU Ambassadors meeting on 5 May.
"Once the proposal is adopted by the Council, it will be for member states to implement the measures set out in the recommendation," the Commission says. "The Council should review the list of non-EU countries exempted from the travel restriction in light of the updated criteria and continue doing so every two weeks."