ACI Europe now expects passenger traffic at the region's airports to be down 56% against 2019 levels this year – a significant deepening from the 43% decline it forecast in October last year.
Lamenting the negative near-term effects of various factors including the tightening of international borders, the airports industry body says air travel demand in Europe "has collapsed", but that the summer season should still see the beginnings of a meaningful recovery.
"Developments impacting the revised short-term forecast include the emergence of Covid-19 variants, advice against non-essential travel and an array of related and tightened travel restrictions, as well as delays in the roll-out of the vaccines," it stated on 20 January as it released a new 2021 outlook.
ACI Europe's revised base-case scenario is that, "subject to vaccination effectively rolled out and travel restrictions being at least partially lifted", there will be a "significant summer peak as pent-up vacation travel demand is released, with a retrenchment in Q4".
That would see passenger traffic down 77%, 68%, 40% and 45% respectively across the four quarters of 2021, compared with the same periods in 2019.
The association's new "pessimistic" scenario "sees the continuation of some travel restrictions, which limit summer travel".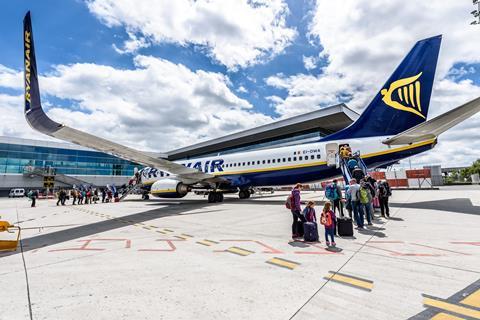 In that case, traffic would be down 77%, 70%, 57% and 54% respectively across the four quarters, compared with the same periods in 2019.
The revised outlook comes as the airports sector grapples with severe financial challenges.
Airports lost €30 billion ($37 billion) in revenues in 2020 versus 2019, ACI Europe states, with a deficit of €25 billion versus 2019 levels expected in 2021 under its new base-case scenario.
"Low forecast passenger volumes and heightened market/competitive pressures on airport revenues mean that losses keep mounting for airports," it says. "The latter might also result in a disconnect between the pace of the traffic recovery and the pace of the revenue recovery."
ACI Europe has joined forces with the European Travel Commission to call on the European Union to relax state aid rules and thereby allow governments to provide more support to the airports sector.