Early data published by airports body ACI Europe covering the three weeks since the Omicron variant emerged indicates passenger traffic at airports in the region has fallen by a fifth.
While some drop in traffic during the three-week period covering late November and the first half of December may be expected given it is a lull period before the Christmas holiday season, the estimated 12 point drop in load factors on flights from European airports – from 66% to 54% three weeks later – indicates demand failed to keep pace with capacity.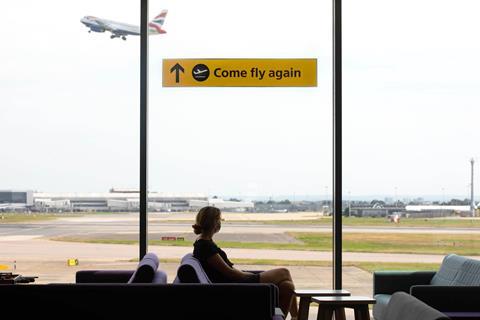 ACI Europe director general Olivier Jankovec says: "It is no surprise that the flight bans to Southern Africa and the patchy travel restrictions imposed by many Governments on other markets – including within Europe – have directly impacted traffic levels in the past weeks. Business travel has been the first to recede, now followed by leisure travel given the extreme uncertainty and prospects of more restrictions both on travel and local life."
The airports body does report a partial pick up in passenger traffic, up 9%, in the past week, and a two-point improvement in load factors to 56%. That ties in with the start of festive season travel.
"Last week's data shows that only 'visiting family and relatives' travel is somehow holding up for now, as Europeans are craving getting together and reuniting with loved ones for Christmas," Jankovec notes.
Europe's biggest carrier by passenger number Ryanair yesterday said it expected to carry 9-9.5 million passengers in December, rather than the 10-11 million it had originally projected.
Despite Omicron clipping demand towards the end of November, ACI Europe data still showed a month-on-month improvement versus 2019. Passenger traffic across European airports was 35.2% down against pre-crisis levels in November, better than the 36.7% difference recorded in October.
That improved performance in November was in part driven by the reopening of the USA to fully-vaccinated travellers from Europe early in the month.
ACI Europe warns the stifling of demand resulting from the Omicron-related restrictions has tempered its projections for the full year. It now expects passenger traffic across European airports to fall short of its forecast for 2021, which itself marked a reduction of 60% in pre-crisis volumes.
"Beyond the holiday season, there is no doubt that Omicron will take its toll on passenger traffic in the first quarter of 2022," says Jankovec.
"But the extent to which we need to revise our expectations will primarily depend on whether governments continue with knee-jerk reactions or not," he says, arguing that economically damaging travel restrictions are ineffective in countering the spread of Omicron, which is already set to become the dominant Covid variant in Europe.