European airports expect another slow start to this year after passenger numbers across the region ended 2021 still 59% below pre-pandemic levels.
ACI Europe, which represents European airports, today reported passenger levels of around 1 billion in 2021. While that marked an improvement on the 728 million European airports handled in 2020, it is still less than half the 2.4 billion passengers European airports saw in 2019.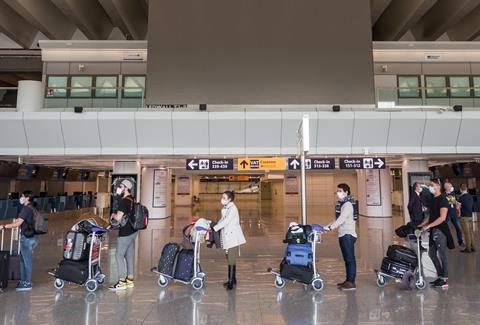 ACI Europe director general Olivier Jankovec says: "After losing 1.72 billion passengers in 2020, we all had high hopes for a strong recovery in 2021. But last year proved another difficult one, as Europe's airports ended up losing another 1.4 billion passengers compared to 2019.
"This means they remain under considerable stress, with systemic financial weakness across our industry."
There was, however, at least an upward trend across most of the year as international borders began opening up in June. Passengers at European airports were only 43% down on pre-crisis levels during the second half of the year and only 35% down in November.
However, renewed travel restrictions which were implemented in response to the emergence of the Omicron variant resulted in a slowing of that recovery. December passengers at European airports were 39% below pre-crisis levels and ACI Europe expects Omicron concerns to weigh heavy during the early part of 2022.
"Uncertainties as to the evolution of the pandemic remain significant and limit visibility beyond a few months, at best," says Jankovec. "For now, the impact of Omicron is still very much on us as airlines keep pulling out flights and capacity in response to weakened demand in what is already traditionally a low season.
"This means the first quarter will be disappointing, but that we should hopefully see traffic take a better turn as spring approaches.
"Whether this happens earlier depends on the pace at which travel restrictions can be lifted, now that Omicron is prevalent. A number of countries are moving in that direction, but much more needs to be done," he says.
Passenger numbers at non-European Union airports have recovered to within 34% of 2019 levels. By contrast those within the EU remain 65% down.
Three of the five biggest airports by passenger number in 2021 were in Russia and Turkey, led by Istanbul and the two Moscow airports of Sheremetyevo and Domodedovo.
While Istanbul remained the busiest airport in December, the opening of US borders to fully vaccinated travellers in November meant the year ended with a more familiar look to the biggest airports in the region. Paris Charles de Gaulle, London Heathrow, Madrid and Amsterdam Schiphol were the next biggest aiports behind Istanbul in December. None of these hubs had featured in the top five busiest airports in the first quarter of the year.