The number of flights operated in European airspace exceeded Eurocontrol's best-case scenario for the second month running in August.
At 71% of pre-crisis levels, flights were two percentage points ahead of the best-case scenario, which was forecast by the European air traffic manager on 1 June.
Eurocontrol director general Eamonn Brennan describes the data as "a good outcome", adding that he hopes "it continues to improve".
The best-case – or "optimistic" – scenario was based on countries relaxing restrictions sooner than expected, prompting traffic to rise much more steeply in the June-July period.
Its base-case scenario was that flights would reach 57% of pre-crisis levels during August.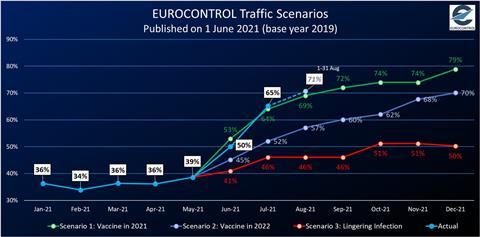 In the week ending 29 August, Eurocontrol data shows that Ryanair was by far the busiest airline, with its average of 2,318 flights per day just 12% down on pre-crisis levels. Turkish Airlines was next in the list, operating 1,322 flights per day, followed by EasyJet (1,186), Air France (899) and Lufthansa mainline (812).
Flight numbers in July were also ahead of the 'optimistic' scenario, by one percentage point at 65% of 2019 levels.
In June they were three percentage points below that scenario, at 50%.
For Europe to continue tracking the 'optimistic' scenario, flight numbers as a proportion of pre-crisis traffic would need to tick upwards in the coming months, reaching 79% for December 2021.
Looking ahead to the coming winter season, however, several European carriers have expressed concern about a lack of visibility regarding demand, with indications that some are trimming capacity expectations.
Ryanair group chief executive Michael O'Leary suggested on 31 August that low fares would be a prominent feature of the season, as airlines seek to stimulate demand.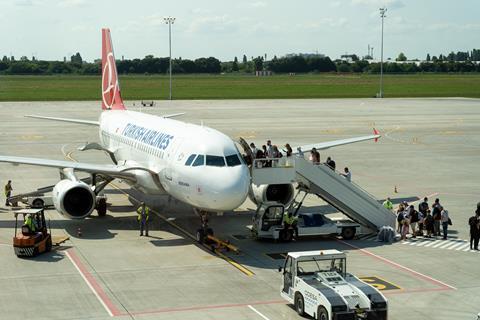 Pre-pandemic, around 85% of the flights tracked by Eurocontrol were commercial airline passenger operations, with the rest accounted for by all-cargo, business aviation and non-scheduled services.
Eurocontrol's 41 member states cover most of Europe but do not include Russia.
Number of flights is just one measure of air traffic and tends to be more immediately available than other key metrics such as passenger numbers, load factors, available seat kilometres and revenue passenger kilometres.