The number of flights taking place in Europe has reached its highest level since the end of the summer 2020 season, as the continent's travel markets begin to reopen.
Cirium data for 7 June shows a seven-day average of 11,373 flights departing European airports. This represents a steady increase from the end of April, when the figure was just over 7,000, and the highest number since 20 September, when 11,420 flights departed.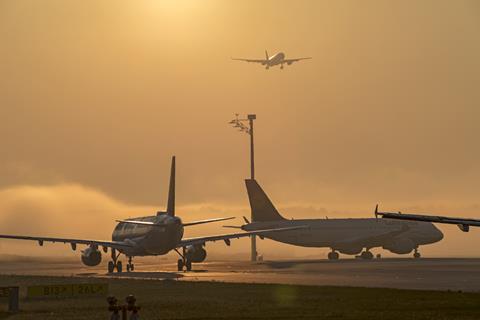 Although the figure remains well below the 26,415 flights of 7 June 2019, the gap with pre-pandemic levels has been narrowing in recent weeks.
Analysis of another metric, aircraft tracked in flight, makes clear that carriers are pressing their equipment back into service.
On 7 June a seven-day average of 3,125 aircraft were tracked making departing flights from European airports, against 2,349 a month earlier. On 7 June 2019, a weekly average of 5,576 aircraft had been tracked, using the same metric.
Cirium data also shows that European airlines have overtaken their Chinese counterparts as measured by seven-day average for passenger flights, as China's number of flights continue to decline.
A total of 11,743 European flights were operated on 6 June, marginally above the corresponding 11,432 services operated in China.
Increasing traffic levels in Europe reflect the gradually improving Covid-19 situation on the continent, as rising vaccination rates start to give consumers the confidence to travel again.
EU member states have also begun to roll out the bloc's digital Covid-19 certificate,designed to facilitate travel for European citizens who have been vaccinated, recovered from Covid-10, or recently tested negative.
Presenting the QR code contained as part of certificate will exempt travellers from the need to display vaccination or test-data itself, easing the process of restarting travel.
On 2 June the EU Commission said that Bulgaria, Croatia, the Czech Republic, Denmark, Germany, Greece, Lithuania, Poland and Spain were already "effectively connected" to the Digital Covid Certificate system, being able to issue and accept digital certificates, ahead of the wider bloc's deadline on 1 July.
Airlines themselves are pushing the EU and national authorities to lift travel restrictions "in a co-ordinated way": A4E and the European Regional Airlines Association said in a joint press release issued 8 June that "safe travel is possible this summer".
As well as the rollout of the digital Covid-19 certificate, the industry is urging governments to remove many of the travel restrictions imposed since the start of the crisis, and adopt uniform standards for issues such as testing.
Many such changes have been proposed by the European Commission, and are due to be discussed at a meeting of EU ambassadors on 11 June.
"Travel and tourism industry associations wholeheartedly welcome this important initiative towards a coordinated lifting of travel restrictions in Europe," say A4E and the ERA. "This is an essential move to restore travellers' confidence and reopen Europe. We believe that the European Commission has played its part, the industry is ready to ensure safe and responsible travel: we now need Member States to act fast."
Air traffic manager Eurocontrol on 1 June published updated traffic forecasts for 2021, showing expectations of a recovery to 57% of pre-Covid flight activity in Europe for August. It cited evidence of strong pent-up demand.
Under the organisation's baseline scenario, Eurocontrol sees flights rising steadily from just 39% of 2019's level in May to 60% in September and 70% by the end of the year.
"It is very clear that there is massive underlying demand for air travel so, as travel restrictions ease, we can expect a good increase in traffic," stated Eamonn Brennan, Eurocontrol's director general.
"However, if more states relax their restrictions sooner and fully implement procedures such as the EU's Digital Covid Certificate as soon as possible, then our optimistic scenario could see the network handling 69% of 2019 traffic levels in August. Naturally, there will be significant variations linked to individual states' travel restrictions, so some parts of the network might perform better than others," he added.