Europe faces a "quickly deteriorating" situation in terms of falling air traffic during the first quarter, with competing "reasonable" assumptions regarding a significant improvement or otherwise from April onwards, according to the latest short-term forecast data from Eurocontrol.
Crucially, the European air traffic management body says today, any recovery going into 2021's summer season hinges on whether the second quarter of the year sees governments beginning to relax travel restrictions.
Before that point, the immediate situation is "a complete disaster for European aviation", according to Eurocontrol director general Eamonn Brennan, as countries impose stricter border controls amid concerns about new Covid-19 variants.
February and March will be "exceptionally low across the network, except for cargo, some business [aviation] traffic and skeleton scheduled services", he says, referring to aircraft movements in European airspace.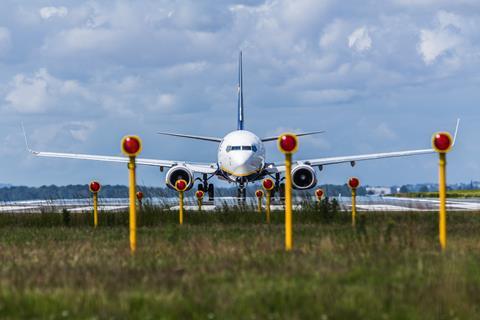 In February, flight numbers are expected to be down 72-74% on 2019 levels, while for March they are expected to be 72-77% lower.
Brennan continues: "Even April is expected to perform very poorly with only a limited pick-up for the Easter period. Flights in Europe will probably only be around 25%-30% of normal."
Indeed, April is the tipping point in Eurocontrol's forecast; the month where its two scenarios significantly diverge.
A first, more optimistic outlook foresees a "partial improvement" in traffic during the second quarter, with some relaxation of travel restrictions.
A second, more pessimistic scenario sees "no improvement" during the second quarter, as travel restrictions remain in place, pushing any "reasonable" bounce-back in air travel until the third quarter at least.
Under the first scenario, traffic would be down 68% on 2019 numbers in April, while under the second it would be down 78%.
If the optimistic scenario plays out, air traffic would be 55% down on 2019 flight numbers come June, with the third quarter expected to deliver further improvements.
"It is reasonable to expect that the epidemiological situation will have improved in many European States by Q2 and that the most vulnerable citizens across Europe will have been vaccinated (despite delays in the roll-out)," Brennan states. "In turn, this could lead to the possibility for non-essential air travel to become more accessible, which would facilitate a small improvement during Q2, followed by a larger recovery in the summer period."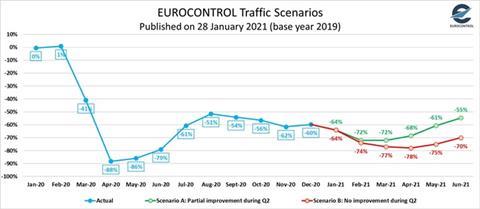 Under the second scenario, however, traffic would still be around 70% down on 2019 numbers in June.
"It is also reasonable to expect that, even if the epidemiological situation has improved by Q2, many states may potentially choose not to relax their national travel restrictions, which will severely curtail demand and any possibility for air travel to improve until the summer period at the very earliest," Brennan says.
Eurocontrol collates data from more than 40 of its members states. Pre-pandemic, around 85% of the flights it tracked were commercial airline passenger operations, with rest accounted for by all-cargo, business aviation and non-scheduled services.