The US Federal Aviation Administration has extended slot relief rules at busy airports in the Northeast USA through the end of next year's summer travel season due to continued air traffic control staffing shortages.
The US regulator said on 15 September that it's giving airlines "limited, conditional waiver of the minimum usage requirement" without penalty until at least 26 October 2024.
The extension comes as the FAA struggles with a shortage of qualified air traffic controllers in the region, and admits it will not have those issues solved before the end of next year.
"The extent of [New York area] staffing shortfalls and the increase in scheduled operations for the winter 2023/2024 season and expected increase in schedules in the summer 2024 season present a highly unusual and unpredictable condition beyond the control of carriers that will impact operations through the entire winter 2023/2024 and summer 2024 scheduling seasons," the FAA says.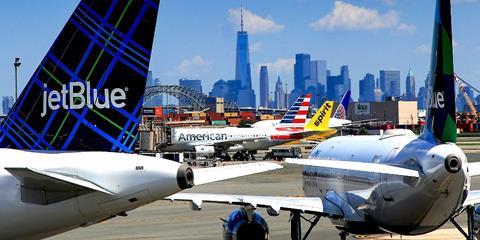 The slot relief was first introduced in March after the FAA said that it was unable to adequately staff its air traffic control centres that oversee busy airspace over the Northeast USA. It told airlines operating out of New York-area Newark Liberty International, John F Kennedy International and Laguardia as well as Washington DC's Ronald Reagan Washington National airports that they could leave up to 10% of assigned slots unused due to staffing bottlenecks at ATC facilities.
Now, it is saying those bottlenecks will continue for quite some time.
"The number of certified controllers at the New York Terminal Radar Approach Control (N90) is still not sufficient to allow the FAA to handle normal traffic levels," the regulator adds, saying it's "working… on a long-term solution to solve the chronic low levels of fully certified air traffic controllers" with union NATCA.
Some airlines did reduce their schedules from the affected airports this summer, and operated larger aircraft on those routes. But a series of intense storms still caused major issues for numerous airlines across the region this summer.
"The agency continues to expect that airlines will operate larger aircraft to transport more passengers, have sufficient ground crews to service the larger aircraft and make sure passengers are fully informed about any possible disruptions," the FAA says.
Typically, airlines must use assigned slots at traffic-restricted airports 80% of the time. During the global Covid-19 pandemic – when air traffic dropped precipitously – aviation regulators globally relaxed such requirements, allowing airlines to maintain slots without long-term penalty.
United Airlines said on 15 September that the relief through next year "will help provide a more reliable travel experience" for customers.
"We appreciate that the FAA and Department of Transportation moved quickly to address the operational realities we're facing in the New York City area," the Chicago-based carrier said. "We've already trimmed our schedule by 10% - and our strategy of flying larger aircraft on these routes will keep the impact to customers to a minimum."
FAA says that reducing schedules will "improve the alignment between scheduled operations and actual operations", as well as reduce delays and optimise airports' resources.