Air traffic in European airspace exceeded Eurocontrol's "optimistic" scenario in July, as flight numbers reached 65% of 2019 levels.
The European air traffic manager had, on 1 June, cited 64% as the likely outcome if countries relaxed travel restrictions sooner than expected amid successful vaccination programmes, with its baseline forecast being 52% and its worst-case scenario being 46%.
"Just exceeded our best-case scenario," says Eurocontrol director general Eamonn Brennan on Twitter, adding that data is "looking good" for August too.
To exceed the "optimistic" scenario in August, flights would need to be above 69% of 2019 levels, based on the June forecast.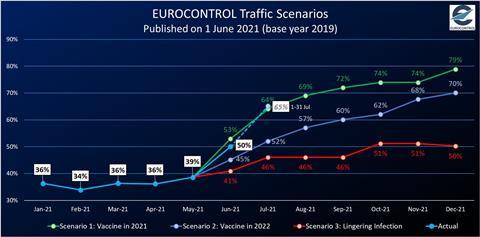 Already traffic for the week ending 1 August was nearing that point, Eurocontrol data shows, hitting 68.3% of 2019 levels at 23,899 flights per day.
Ryanair was by far the busiest airline in terms of flight numbers during that week, averaging 2,175 per day. That was more than double the numbers achieved by any other carrier, aside from Turkish Airlines at 1,301. EasyJet was next at 1,074, followed by Air France (896), Lufthansa mainline (824), KLM (726) and Wizz Air (617).
Number of flights is just one measure of air traffic and tends to be more immediately available than other key metrics such as passenger numbers, load factors, available seat kilometres and revenue passenger kilometres.
Pre-pandemic, around 85% of the flights tracked by Eurocontrol were commercial airline passenger operations, with the rest accounted for by all-cargo, business aviation and non-scheduled services.
Eurocontrol's 41 member states cover most of Europe but do not include Russia.