Frontier Airlines is launching direct flights from Puerto Rico to eight major cities in the USA and Mexico, expanding its Puerto Rican network to 20 destinations.
The Denver-based ultra-low-cost carrier (ULCC) said on 4 May that it has begun operating from Puerto Rico to Cleveland, Baltimore, Chicago, Dallas-Fort Worth and Detroit, with frequencies ranging from three flights weekly to daily. Additionally, thrice-weekly flights from Cancun to Puerto Rico will begin on 11 May.
Frontier says it connects the US territory to the most cities of any airline.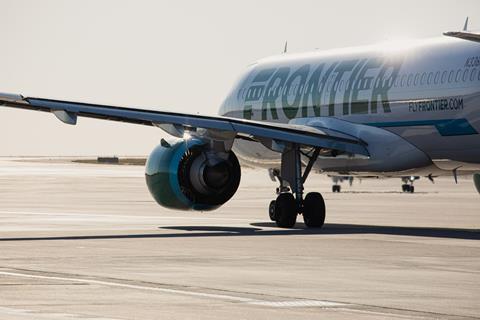 "We are pleased to know that the largest expansion of the airline in its history takes place in Puerto Rico, with eight new non-stop routes to seven US cities and one service to Mexico, which will use Luis Munoz Marin International airport as a gateway," says Jorge Hernandez, chief executive of Aerostar Airport Holdings, operator of the Caribbean island's busiest airport.
"Our major expansion in Puerto Rico is connecting the island to some of the most popular destinations across the United States, as well as Cancun," says Daniel Shurz, senior vice-president of commercial for Frontier.
Also on 4 May, the ULCC kicked off flights from Rafael Hernandez International airport in Aguadilla to Tampa, and from Mercedita International airport in Ponce to Orlando. Both routes connecting Puerto Rican cities to Florida will operate three times weekly.
Frontier recently reported a $13.1 million first-quarter loss and indicated that it would shift strategy toward operating during periods of peak air travel. The discounter says it plans to roll out an adjusted schedule in time for the busy summer air travel season in the northern hemisphere.