The US Department of Transportation (DOT) is exempting Frontier Airlines from operating routes to Charlotte, Detroit, Boston and Providence through 10 June, as a condition of its federal payroll support.
The DOT notice on 25 April states that those destinations "have abundant service from other carriers", and that allowing Frontier to suspend those routes relieves it "from an undue economic and operational burden". The department also will not require Frontier to operate flights to Portsmouth, New Hampshire, because the carrier removed that city from its network in July 2019.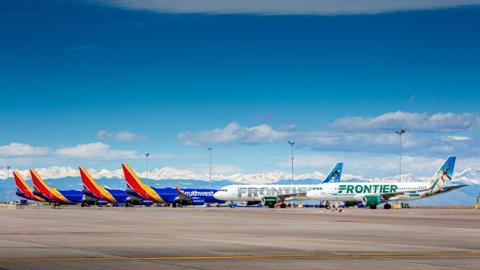 The department rejected the rest of the ultra-low-cost carrier's request to suspend service to 33 destinations on its network, amounting to a third of the 96 destinations on its continental US network, Cirium schedules data shows. The routes included Sioux Falls, Cedar Rapids, El Paso, Grand Rapids and Syracuse.
The Coronavirus Aid, Relief, and Economic Security (CARES) Act gives the US Treasury and Transportation departments discretion to set conditions for relief funding to airlines, which include requirements for them to continue operating their routes "to the extent reasonable and practicable". Airlines that receive stimulus funds are invited to request the DOT to exempt certain routes from their network. Treasury states that it will give Frontier funding to continue paying salaries and benefits to its workers, but the privately owned airline has not provided details.
While the DOT seeks "to retain at least minimal connections to the national air transportation system" to allow air travel and cargo shipments as needed, cash-strapped airlines are criticising this policy as out of step with the virtually zero-revenue environment. US domestic flights as of 28 April are carrying only 15 to 20 passengers on average, according to trade group Airlines for America (A4A).
Treasury and DOT have adjusted their terms for CARES Act funds in response to concerns expressed by trade associations and labour groups. Carriers that provided less than 10% of domestic capacity in 2019 and served a point five or more times per week only need to provide three weekly flights, the DOT says. Those that served a destination less than five times per week only need to provide one weekly flight.