Germany has shut its border to travellers from Ireland and Portugal in an effort to halt the spread of coronavirus variants that are more-easily transmitted.
The German government has added those nations to an entry ban that already includes travellers from Brazil, the United Kingdom and South Africa, it says on 29 January.
The prohibition runs from 30 January to 17 February.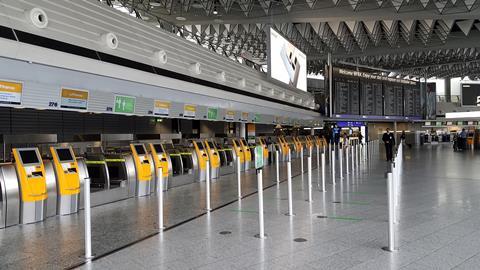 Additional restrictions for passengers from the African countries of Lesotho and Swaziland will be imposed from 31 January, Germany adds.
There are exceptions for German citizens and permanent residents, as well as those transiting through Germany to non-Schengen region destinations. However, these travellers may not leave transit areas at major air hubs Frankfurt and Munich.
"The dynamism of the spread of the variants is particularly worrying in these countries," says the government regulation. "With an increased entry of the above-mentioned virus variant strains into the Federal Republic of Germany, there could be a rapid increase in the number of cases. The associated [and] worrying burden on medical facilities to protect the population in the Federal Republic of Germany should be avoided."
German Flag carrier Lufthansa currently operates 55 weekly flights to the affected countries. It is as yet unclear how many of these will be cancelled.
The prohibition is the first such policy Germany has enacted unilaterally without coordinating with the broader European Union. Germany lists 160 nations in a "high risk group". Travellers from those countries undergo additional screening when entering Germany.
Also on 29 January, Canada said its airlines are halting flights to Mexico and the Caribbean for three months, until 30 April. That effort too is aimed at halting the spread of new Covid-19 variants. The ban comes when many winter-weary Canadians would typically travel south for holidays.