Bahamasair chief executive Tracy Cooper is calling for greater harmonisation efforts to ease travel within the Caribbean, particularly on intra-island services.
Cooper, speaking during a panel debate on 18 October at the ALTA Airline Leaders Forum in Buenos Aires, noted the strength of recovery in passenger traffic in the Caribbean region had surprised airlines and caught out those that had made cuts during the pandemic.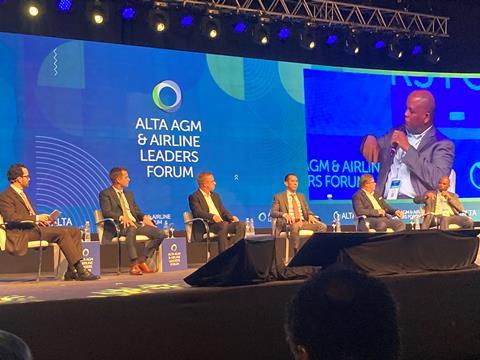 "Especially this summer we were not able to meet the demand that was there on our doorstep," Cooper says of his own airline. "One of the things as we move forward, perhaps we need to recognise, is the aviation industry is much more resilient than we thought."
While wider economic headwinds threaten to curb the pace of recovery, Cooper highlights the longer-term issue around a lack harmonisation within the Caribbean when asked about the key challenge facing Caribbean aviation.
"The whole thing for the Caribbean is we are still fighting some things we were fighting before the pandemic, and that is harmonisation of efforts and the limited infrastructure that we have."
He says this was a key topic at the recent Caribbean Aviation Day, the IATA co-organised event held last month in the Cayman Islands.
"One of the things we spoke about is, in the Caribbean we have limited resources, so how do we use those limited resources? And how do we use all of our efforts to make sure we have a blanket situation for moving around the [Caribbean], especially for multi-destination servicing, so that the industry gets better, and by extension, then the airlines get better.
"We talked about harmonisation of the air navigation facilities that are in the Caribbean. In eastern Caribbean alone we have 10 authorities that you are flying through," he adds.
"We also talked about having a common entry for the Caribbean, so if you have a Caribbean visa to enter one country, could you use that same facilitation to go to all of the other Caribbean countries as well?
"The reality is some of our island nations are only 30 minutes apart. So how do we get over all of that, the harmonisation of intra-regional flights, of the tax systems, so [that] we are all playing with a level field and we could all get more tourists wanting to come to the Caribbean."
Another panellist, American Airlines' operations vice-president for the region, Jose Freig, also flagged issues around infrastructure and regulations for operators serving the Caribbean.
"Some of the pent-up demand is there specifically for the Caribbean and Mexico, and some of the challenges we have is infrastructure, and just ensuring we work very collaboratively with our airport authorities and our regulators.
"We see that on a Saturday in the Caribbean, we all like to fly in. Everyone wants to be there. But we don't have the opportunity to park airplanes, our customs halls are full, our customers are waiting too long before they get picked up," he says.
"When you think about the entire ecosystems, it's all our responsibilities [in the industry] to make sure we are working very closely so we are able to match that pent-up demand with the infrastructure in the system."