Hawaiian Airlines will reinstate nonstop flights to American Samoa, the only scheduled passenger airline to fly to the US territory in the south Pacific Ocean, after an almost 18-month break.
The Honolulu-based carrier says on 8 September it will operate two direct flights monthly between Honolulu and Pago Pago, beginning on 13 September through December.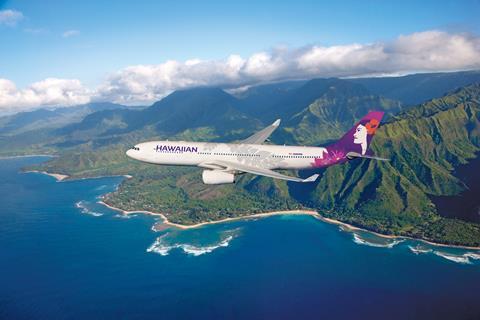 "We are delighted to bring American Samoa back into our network and welcome guests who have been patiently waiting for our flights to restart," says Hawaiian's Brent Overbeek, senior vice-president for network planning and revenue management.
The airline will use 278-seat A330s for the route, it says.
American Samoa is comprised of seven islands and atolls in the South Pacific, and is about 2,570 miles (4,130km) southwest of Hawaii. The territory has been largely isolated since Hawaiian Airlines stopped passenger air service in March 2020 at the request of the American Samoa government, the carrier says.
Hawaiian did, however, operate a series of repatriation flights beginning in January to bring back thousands of residents who had been stranded away from the territory.