Hawaiian Airlines plans to resume flights between Kona and Tokyo's Haneda airport in October, marking a milestone in the carrier's network recovery from the Covid-19 pandemic.
The airline said on 7 September that it intends to operate three flights between Ellison Onizuka Kona International airport and Haneda airport during the week of 29 October. It will then dial back to once weekly until the beginning of March 2024, and will once again operate thrice-weekly service from 13 March.
The flights will be operated with Hawaiian's 278-seat Airbus A330 aircraft, which feature 18 lie-flat business class seats.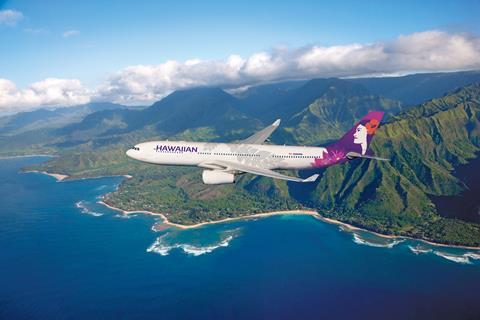 The carrier also flies to Osaka, Fukuoka and Tokyo's Narita International airport.
By 13 March, the carrier will have increased its Japanese capacity by 59% over summer 2023 levels, Hawaiian says.
"We're very pleased to bring back our convenient non-stop service between Tokyo and Hawaii Island as we continue to restore our Japan network to meet increasing demand," says Takaya Shishido, Japan country director at Hawaiian Airlines.
Hawaiian launched Haneda-Kona flights in 2016 and suspended those operations in March 2020 due to the COVID-19 pandemic. For many months after the shut down, the Honolulu-based carrier lamented the slow demand recovery in its critical Japanese market.
However, during its 25 July earnings call, Hawaiian cited the long-awaited resurgence in demand from Japan in its "favourable" forecast for the remainder of 2023.
"Since early May, Japan outbound demand has accelerated meaningfully for the first time since the onset of the pandemic. Combined with historically high demand from US point-of-sale, the result has been load factors… that are comparable to historical levels," said chief executive Peter Ingram. "It is great to see Japanese visitors start to return to Hawaii in numbers."
Hawaiian recently began selling tickets for flights on its first Boeing 787 Dreamliner, set to be delivered in January. The carrier's 787 operations are scheduled to begin on 15 April between San Francisco and Honolulu.