London Heathrow airport's operator now expects passenger numbers to reach 54.4 million this year, 1.6 million more than it had projected two months ago.
Heathrow airport had in publishing its first-quarter results on 25 April already lifted its full-year passenger forecast from 45.5 million to 52.8 million – around 65% of pre-pandemic levels.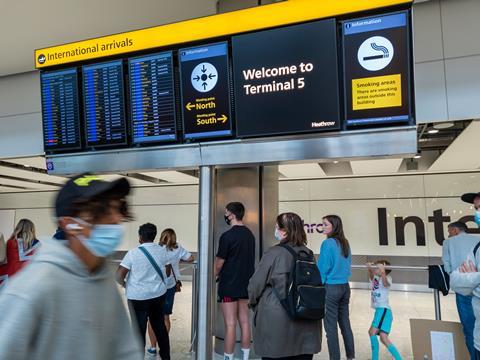 "At the time we noted in our results that we would be undertaking a fuller forecast review for our June investor report which we've published today," Heathrow airport says. "Today's report increases our full-year forecast a further 3% to 54.4m pax due to stronger short-term demand this summer."
The stronger demand picture comes amid a surge in passenger traffic as Covid-19 restrictions have eased. Traffic climbed again in May as Heathrow enjoyed its busiest month since the pandemic in handling 5.3 million passengers, reaching 79% of pre-Covid levels.
However, in improving its outlook in April, Heathrow noted that demand "remains very volatile" and is likely to "drop off significantly" after the summer season.
Airlines argued the outlook was unnecessarily downbeat, accusing the operator of seeking to downgrade the pace of recovery within aviation to drive up passenger charges to support shareholder returns. That in turn comes amid a row over the increase in fees Heathrow is seeking as part of the long-term charging regime at the airport, a decision on which the UK regulator deferred until after the summer to have a clearer idea on likely demand.