London Heathrow's Covid-19 testing facility is "ready to go" and awaiting UK government approval to test arrivals at the airport as a way of reducing the amount of time for which travellers from high-risk countries are required to quarantine.
The airport announced in July that it was working with Collinson Group and Swissport to develop a test-on-arrival pilot programme as an alternative to quarantine.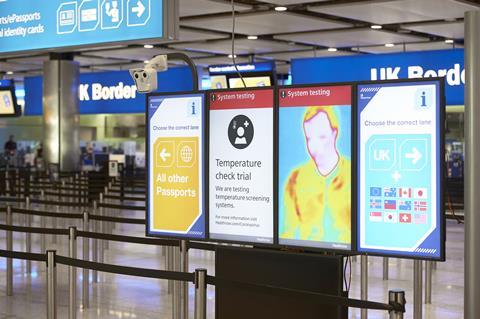 Heathrow has today disclosed that the facility, which is housed in Terminal 2, is "set up and ready for use". It has the capacity to carry out 13,000 passenger tests each day and can be scaled up as demand rises.
"It is hoped that with approval from the government, people testing negative during the process will be allowed to exit quarantine early," says Heathrow airport's operator.
The proposed pilot is based on a two-test model whereby passengers take the first test on arrival at the airport and then test again a few days later. If both tests are negative, the idea is that passengers from high-risk countries could then be released early from their 14-day quarantine period.
The UK government has not approved Heathrow's plan, although health secretary Matt Hancock said on BBC Radio Four's Today programme that it was "working on" an airport testing solution and that it would "have to have repeat testing".
Heathrow cites similar airport-testing programmes that have already been trialled in other countries including Germany, noting that they are now being "rolled out in France, Iceland and Austria, and at more than half the world's busiest airports including Paris Charles de Gaulle, Tokyo Haneda and Dubai International.
The UK government hastily removed Spain from its travel-corridor list in July and took the same action for France in August, throwing travel plans into disarray during the UK's peak holiday-travel season.
"Testing will not only avoid the 'quarantine roulette' that so many passengers faced in Spain and France, it will also open up flights to key trading partners such as the US, Canada and Singapore," argues Heathrow chief executive John Holland-Kaye. "This facility is an oven-ready opportunity to see how Britain can safely reopen for business, as other countries are doing."
With government support, Heathrow says the PCR tests could be conducted as a private service on Terminal 2 arrivals immediately and on Terminal 5 arrivals "within a few weeks".