London Heathrow airport passenger numbers moved to within 15% of pre-Covid levels in September as the strong pick-up in demand at the hub continues.
Yet while Heathrow lays claim to having returned to being Europe's busiest passenger hub airport over the summer, it cautions that the demand outlook remains "uncertain".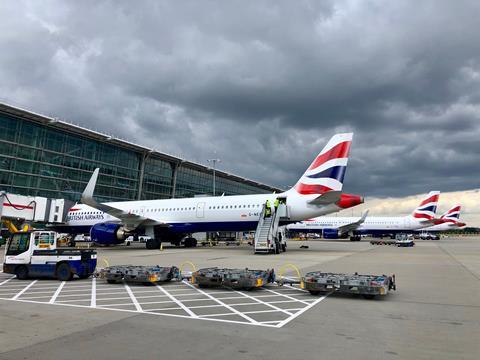 Heathrow handled 5.78 million passengers in September, more than double the 2.57 million it recorded for the same month last year.
The UK hub has enjoyed strong growth since the reopening of transatlantic markets to fully vaccinated travellers in November last year. More than a quarter of passengers travelling through Heathrow in September, 1.5 million, were on transatlantic services.
Passenger numbers moved to within 15% of September 2019 levels – the smallest the gap has been since the crisis hit.
While September figures for its neighbouring hub rivals are still to be released, Heathrow has over the summer returned to be the busiest of these airports. Istanbul airport, which handled 6.78 million passenger in August, has been Europe's busiest airport over the summer.
European hub summer traffic snapshot
Airport
June
July
Aug
Sep
Source: FlightGlobal
London Heathrow
5.99m
6.31m
6.04m
5.78m
Paris Charles de Gaulle
5.45m
6.02m
6.02m
Amsterdam Schiphol
5.23m
5.18m
5.32m
Frankfurt Main
4.99m
5.02m
5.19m
Heathrow chief executive John Holland-Kaye says: "Heathrow has grown more in the past 12 months than any airport in Europe and we've delivered a great passenger experience to the vast majority of travellers."
The strong summer came despite the operational challenges it faced at the start of the season as demand rapidly ramped-up, requiring it to impose a cap on passenger departures. That cap will be lifted at the end of October.
"Demand outlook remains uncertain, with growing economic headwinds, a new wave of Covid and the escalating situation in Ukraine," the airport cautions. "However, we expect peak days at Christmas to be very busy. Resource levels across the airport, airlines and their ground handlers have been increasing and we have now removed the cap.
"We are working with our airline partners to develop a more targeted mechanism, which protects passenger service during peak periods."
Airlines have previously argued Heathrow's outlook was unnecessarily downbeat, accusing the operator of seeking to downgrade the pace of recovery within aviation to drive up passenger charges to support shareholder returns. The UK CAA will later this year finalise its decision on charges at the airport through to 2026.
The airport says: "Our focus over the next 12 months is to get capacity, service levels and resilience back to the high levels that they were before the pandemic. This relies on having a regulatory settlement that provides enough cash flow to invest in our operations and capital projects, and to maintain an investment-grade credit rating."