While Virgin Atlantic chief executive Shai Weiss continues to hit out at charges and capacity planning at London Heathrow Airport, the efficiencies and better connectivity the hub provides means a return to London Gatwick is not on the cards.
Virgin, which has its headquarters in Crawley near Gatwick, had served the airport since its launch in 1984 before taking the decision to consolidate its operations at Heathrow airport during the pandemic.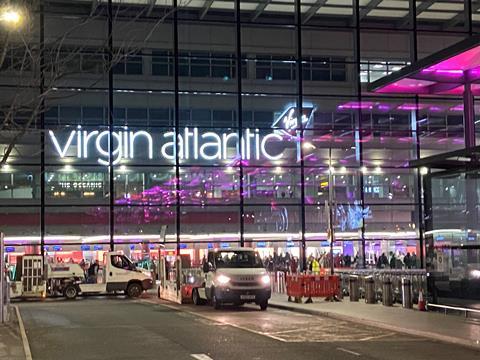 "Through the pandemic we had to make some tough decisions and one of them was to move all our flying from Gatwick into Heathrow and consolidate our position there," Weiss said, during a question and answer session at the Airlines 2022 event, co-organised by FlightGlobal, in London on 21 November.
"We've actually increased the number of slots available to Virgin Atlantic there, that has improved our utilisation of planes by virtue of efficiency which is a tremendous contribution to improving our financial performance."
Virgin already had a majority of its services operating from Heathrow even before the pandemic, serving only Las Vegas and Orlando in the USA and Caribbean leisure destinations from Gatwick.
Weiss flags connectivity as the key benefit of Heathrow operations, which has become even more important after joining its shareholder and partner Delta Air Lines in its transatlantic joint venture with Air France-KLM – none of whom fly into Gatwick, though Delta will start New York JFK flights there next summer.
"[There is] 30-40% connectivity at Heathrow, it is already the most busy airport as it should be, and only 10% connectivity at Gatwick despite the fact its extremely well run," he says. "We have consolidated at Heathrow, it has benefits for our consumers, it has benefits for Virgin Atlantic and it is necessary when we are partnership with Delta, Air France and KLM.
"If by magic you could create another airport of that magnitude which would be a gateway to the UK, we would consider it. But until that happens, we are at Heathrow."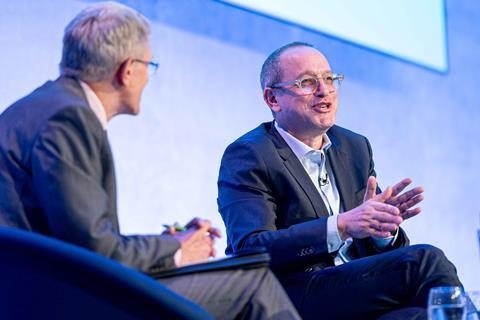 That comes despite a love-hate relationship with Heathrow airport, where it has been vocal critic of charging levels at the airport and capacity caps implemented this year amid staffing shortages during the ramp-up in demand.
Weiss says: "We have multiple touchpoints with Heathrow. Every time I meet [chief executive] John [Holland-Kaye] I tell him there are five or six things we work with seamlessly really well, best in class, best in partnering."
But he adds there are issues they are not going to agree on. "The fact that they wanted to hike prices 120%, the fact that curtailing supply in my mind is not a way to go – they should have been ready, just as we were – and the fact that we are operating in Terminal 3 that is 60 years old and requires a refurbishment.
"We are going to fight tooth and nail on behalf of our customers and airlines and the wider community in the UK to ensure we get best service out of the most expensive airport in the world," he says.
Weiss also says its previously unequivocal support for a third runway at Heathrow is now conditional on only if the airport "remains competitive".
Virgin also flies out of Manchester and Edinburgh, and while Weiss sees a continued role in the network for these airports, he says a lack of connectivity is likely to rule out expansion to further points in the UK regions.
"Our home in the north is a very important part of our jigsaw," he says. "We have to allocate the planes and allocate the assets where there is demand. Our commitment to Manchester is unwavering. It has reduced although I think it will come back over time.
"For us the regional airports do not always support long-haul travel to multiple destinations. We've got to recognise that aviation is a network business, we've got to bring passengers to a place where they can connect, that is my point about Heathrow.
"Manchester is a case in itself, there are 20 million people… that can be served by Manchester. In some destinations, be it Orlando out of Scotland, there is demand during the summer, and we cater for that demand. But its not likely Virgin Atlantic will go beyond the places [in the UK] it is flying right now."
Virgin has previously looked at boosting connectivity into UK hubs, most notably through first its Little Red concept and then the ill-fated revamp of Flybe through the Virgin Connect project.
Weiss says the carrier remains interested in partnering with anyone "who flies into Manchester, Heathrow and Edinburgh with local connectivity", but flags a different opportunity to boost connectivity in future through the potential of electric vertical take-off and landing (eVOTL) aircraft. The carrier highlighted the potential for such a network to cut transfer times when it partnered with UK eVOTL manufacturer Vertical Aerospace last year, while Delta has just announced a similar tie-up with Joby Aviation.
"That's far into the future but there is no reason in our mind why Virgin Atlantic should not be a player in that kind of opportunity," Weiss says.