London Heathrow Airport's operator is working with airlines on reopening Terminal 4 this summer as demand picks up after depressed passenger numbers – the hub's lowest figure for 50 years – contributed to a pre-tax loss of £1.8 billion ($2.4 billion) in 2021.
Heathrow handled 19.4 million passengers in 2021 – a figure which, unlike those of rival hubs Amsterdam Schiphol, Frankfurt and Paris Charles de Gaulle, marked a further deterioration on the already calamitous drop seen in 2020 during which it handled 22.1 million passengers. Passenger levels had topped 80 million before the crisis.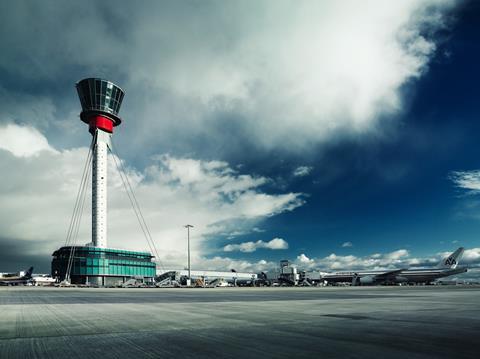 The continued challenges in passenger traffic resulted in revenues climbing just 3% to £1.2 billion for the year, compared with revenues of over £3 billion in 2019.
While Heathrow Airport points to cost savings of £870 million achieved over the past two years, the pre-tax loss of £1.79 billion takes cumulative losses over the past two years to £3.8 billion.
The impact of the Omicron variant means passenger numbers are currently 23% behind forecast, though Heathrow remains confident of a demand recovery.
"Despite lower than expected passenger numbers in January and February, we are expecting a surge of Brits heading for summer sun and are working with our airline partners to ramp up operations to ensure they have a great experience at Heathrow, including reopening Terminal 4 by July," Heathrow Airport says.
It still expects to meet its target of 45.5 million passengers in 2022.
Heathrow Airport chief executive John Holland-Kaye says: "While 2021 was the worst year in Heathrow's history, I am very proud of the way that colleagues focussed on passengers, and we were able to maintain our position as one of the top 10 airports in the world for service.
"Demand is now starting to recover and we are working closely with airlines to scale-up our operations and reopen Terminal 4 for the summer travel peak."
By contrast Barcelona and Madrid airports operator AENA, which also disclosed finanical results today, reported a 57% jump in passengers across all its Spanish airports in 2021 to just under 120 million. That increase drops to 52% at a group level with London Luton and its interests in six Brazlian airports are included.
AENA revenues climbed 7% to €2.4 billion ($2.7 billion) - including a jump of almost a third in its aeronautical revenues – and it halved losses to €60 million.