London Heathrow airport continued to see the impact of the Omicron variant of Covid-19 during January, despite the UK government dropping additional travel restrictions a few days into the month.
The 2.6 million terminal passengers during January represented a fall of 56% from pre-pandemic levels and followed a "tough Christmas" for the airport, after the UK mandated pre-departure testing for all arrivals at English airports from early December in response to the spread of Omicron.
The airport estimates that it lost 1.3 million passengers during December and January as a result of cancelled bookings or decisions not to book travel, even as the government rescinded the extra restrictions from 9 January.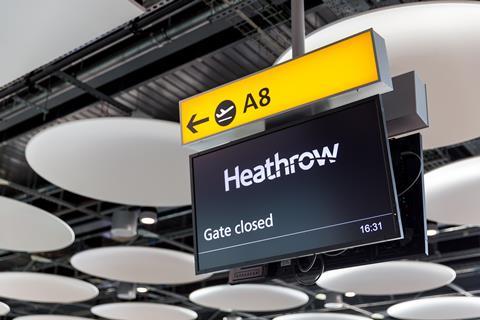 While a recovery trend has since been seen in bookings for outbound tourism, Heathrow notes that inbound tourism and business travel "remain weak due to Covid-19 levels in the UK and other countries".
The airport sees "a ray of hope", however, in the removal of testing requirements for fully vaccinated arrivals, which comes into force today.
Nevertheless, demand "remains fragile", the airport says, as it calls on the government to "set out a playbook for managing future [Covid-19] variants that allows travel and trade to keep flowing".
Heathrow continues to forecast passenger numbers for the full year at just over 50% of pre-Covid levels, driven by an expected strong outbound summer holiday market, which would offset the weaker-than-expected start to 2022.