London Heathrow airport's operator still does not expect demand to return to pre-pandemic levels for "a number of years", despite raising its passenger forecast for this year after a strong summer.
Heathrow airport handled 18 million passengers over the summer months, outstripping its European hub airport rivals. It means the airport handled 44.2 million passengers over the first nine months of this year, a marked improvement on the 10 million recorded over same period in 2021.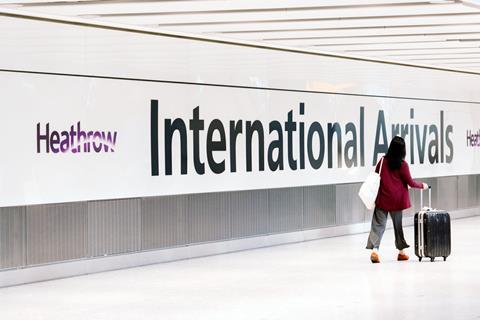 "While demand is stronger, it is not fully recovered," Heathrow says in releasing third-quarter results today. "We forecast that total passenger numbers for 2022 will reach between 60-62 million, approximately 25% fewer than 2019."
Heathrow had in June anticipated passenger levels would reach 54.4 million this year, itself an upgrade of its projection of 45 million made at the outset of the year when tighter Covid travel restrictions were in place.
Despite the improved traffic outlook for this year, Heathrow still sees a full recovery in demand some way off. "Headwinds of a global economic crisis, war in Ukraine and the impact of Covid-19 mean we are unlikely to return to pre-pandemic demand for a number of years, except at peak times," it says.
The airport and airlines have been at loggerheads for some time on projections for the pace of demand recovery, and thus likely revenues, as they lobby the UK CAA over the level of airport charges until 2026. A final decision is expected from the CAA before year-end.
Heathrow airport chief executive John Holland-Kaye argues the CAA should look again at stimulating the long-term investment that will "deliver the smooth and predictable journeys consumer value" rather than focusing on short-term pricing.
"It looks as if the airlines will be the first to return to profitability and probably the first to start paying dividends again, and that shows that the balance and the value between ourselves and the airlines is not right and that's one of the things we have asked the CAA to take a look at," he said during an analysts briefing on 26 October.
While the jump in traffic helped Heathrow airport revenues treble to £2.1 billion ($2.4 billion) over the first nine months of the year, the airport says its underlying losses increased, as it posted an adjusted pre-tax loss of £442 million.
Notably, the strong summer traffic performance was achieved despite the implementation of a cap on the number of departing passengers, after delays and cancellations marred the start the summer amid staff shortages.
That cap will be lifted at the end of the month, though the airport reiterates today that measures may be needed for the upcoming Christmas peak periods.
"We don't actually need it [the cap] at the moment because demand is well below what we set it at, 100,000 departures a day," explains Holland-Kaye.
"In future, I think we are only concerned about keeping demand and capacity in balance on the very peak days. Summer was an extended peak period, and we are talking to the airlines about how we best match-up capacity and demand over key periods, such as Christmas.
"I don't expect that will have any material impact on passengers. We will just be managing it all behind the scenes working closely with airlines. But I need to make sure we don't give anyone a false expectation that everything is back to normal. It clearly isn't; it's pretty good but it isn't where we need it to be."
Longer-term the airport says its priority is to build back the airport eco-system to meet demand at peak times.
"This time last year we needed to recruit, across all of the 400 companies at the airport, about 25,000 people to get back to full capacity. And not just recruit people, but also make sure they are security-passed and they have the right skills and training. That is a huge logistical challenge coming from where we were. I think going into the summer we were halfway to that goal, currently we are about 85-90% back to full capacity in terms of the numbers of people.
"My encouragement to our partners across the airport today is to keep going to get back to full capacity as soon as we can so we can accommodate any level of demand… next summer, because we have all seen how long it takes to recruit and train people and get back to normal."
The airport says it is supporting this through measures, including establishing a recruitment taskforce to help fill vacancies, working with the UK government on a review of airline ground handling and its recent appointment of operations chief Kathryn Leahy to lead liaison efforts with airlines and handlers.