The UK's travel restrictions "remain a barrier" to a more significant recovery from the Covid-19 pandemic and mean the country is lagging the positive trends seen elsewhere in Europe, in the view of Heathrow Airport.
Announcing today that its cumulative losses from Covid-19 have grown to £2.9 billion ($4 billion), the London hub says its cargo volumes were 17% down on pre-pandemic levels across the first six months of this year – versus positive figures at other large European airports such as Frankfurt and Schiphol.
At the same time, it believes that the UK's coronavirus testing requirements and restrictions on travellers who have been vaccinated outside the country put it at a significant disadvantage when it comes to passenger traffic.
"The UK is emerging from the worst effects of the health pandemic, but is falling behind its EU rivals in international trade by being slow to remove restrictions," says Heathrow airport chief executive John Holland-Kaye. "Replacing PCR tests with lateral flow tests and opening up to EU and US vaccinated travellers at the end of July will start to get Britain's economic recovery off the ground."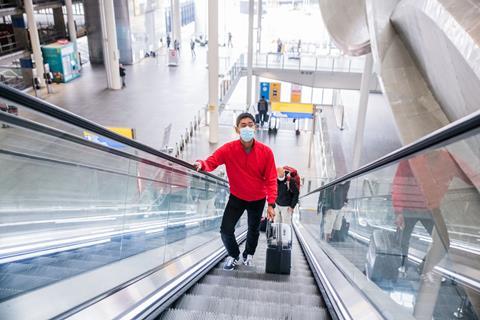 Despite its reservations, the airport welcomes some improvement in traffic seen in recent weeks as a result of the UK government's "traffic light" system for international travel, but says its base-case scenario will still see it handle fewer passengers in 2021 than it did in 2020 – with the latter benefiting from several weeks of 'normal' travel demand before the pandemic took hold.
Heathrow expects a total of 21.5 million passengers to travel through the airport in 2021, down from 22.1 million in 2020 – itself a fall of 73% from 81 million in 2019.
Fewer than 4 million people travelled through Heathrow in the first six months of 2021, the airport says, noting that it took just 18 days to reach that number of passengers in 2019.
It claims that trade routes between the EU and the US have recovered to nearly 50% of pre-pandemic levels while the UK remains 92% down.
In financial terms, Heathrow's pre-tax loss for the first six months of 2021 was £868 million, on revenues of £348 million. That pre-tax loss is a slight improvement on the £1.06 billion it recorded for the first six months of 2020, on higher revenues of £712 million.
For the first six months of 2019 – the most recent equivalent period featuring no impact from Covid-19 – it recorded a pre-tax profit of £7 million on revenues of £1.46 billion.