Hong Kong has further eased coronavirus prevention rules for passengers arriving in the city, although it still has extensive coronavirus testing requirements.
In a 13 December media briefing, Hong Kong chief executive John Lee announced the easing of a number of restrictions. Namely, passengers arriving from overseas will no longer be restricted from visiting bars and restaurants for three days after their arrival.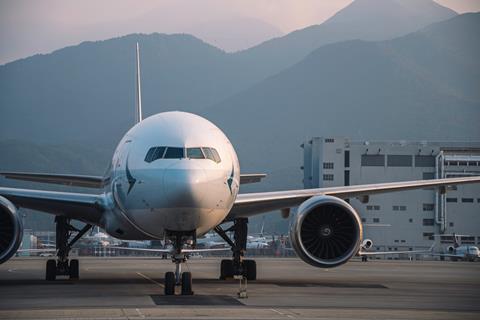 Passengers will still, however, be subjected to Covid-19 tests for five days after their arrival. They will also need to show proof of vaccination against Covid-19.
Cathay Pacific Airways welcomed Lee's remarks.
"The adjustments will help further boost sentiment for travel, especially among inbound visitors, thereby facilitating the resumption of travel activities and strengthening of network connectivity at the Hong Kong aviation hub," says Cathay.
It notes that it and low-cost unit HK Express have added about 3,000 flights in the fourth quarter, following Hong Kong's lifting of onerous quarantine rules, which had all but cut off the city from the world for nearly three years.
The China Special Administrative Region's moves come amid the sudden reversal of China leader Xi Jinping's 'zero-Covid' policy on the Chinese Mainland.
Despite the changes in Hong Kong, it still lags other Asia-Pacific countries such as Japan, Singapore, South Korea, Taiwan, and Thailand, all of which have largely abandoned testing requirements.
Cirium schedules data underlines the impact that Covid-19 restrictions have had on Hong Kong's outbound traffic. In November 2022, outbound ASKs were 77% below their level in November 2019, prior to the emergence of the coronavirus pandemic in Wuhan, China.
This, however, marks an improvement from November 2021, when outbound ASKs were 88% below November 2019 levels, and November 2020, when ASKs were down 89%.
Also marking Hong Kong's emergence from the pandemic is Cathay's reactivation of its first class product. In early December it resumed first class on services to London Heathrow.
Its first class product will be deployed to Paris from 18 January 2023, and to Tokyo Haneda from 1 February.
Cirium fleets data shows that Cathay's first class product is found aboard some of its Boeing 777-300ERs, and a small number of its Airbus A330-300s. Cirium indicates that Cathay has 124 aircraft in service, with 63 in storage.