Europe could see flight numbers back at 2019 levels as soon as 2023, according to the latest seven-year outlook report from Eurocontrol, as the region's air travel recovery gathers pace sooner than previously thought likely.
Citing a "very encouraging" summer 2021 and the latest economic forecasts, the European air traffic manager says 2019 flight levels will be achieved in 2023 if the industry tracks its new baseline and best-case scenarios.
That marks a significant shift from its previous seven-year outlook, published in May, which suggested flight activity in the region would not return to pre-crisis levels until 2024 at the earliest and probably not until 2025.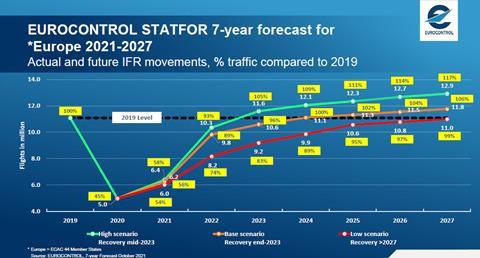 "We are optimistic about traffic recovering to 2019 levels earlier than anticipated, with the baseline scenario indicating 9.8 million flights in 2022, just 11% down on 2019," says Eurocontrol director general Eamonn Brennan. He notes that Europe is on track to see 6.2 million flights this year, which is 44% down on 2019.
The new best-case – or "high" – forecast scenario envisages strong global vaccination programmes, a coordinated approach to the lifting of inter-regional travel restrictions – meaning most flows restart by mid-2022 – and a speedy recovery of business travel. Under that scenario, 2019 levels of traffic would be reached in early 2023.
The new baseline scenario only differs in that flows outside Europe recover more slowly, as does business travel. That would see traffic touch 2019 levels at the end of 2023.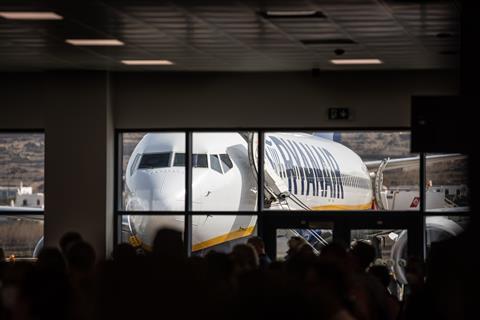 Brennan warns, however, of "significant downside risks that could affect the recovery".
They include Covid-19 variants prompting the need for new vaccines, the impact of lockdowns and other measures should the epidemiological situation worsen, the "fragile" economic recovery, and high fuel costs leading to rising ticket prices.
In Eurocontrol's "low" scenario, therefore, the realisation of such risks means flight numbers do not recover to pre-crisis levels until the 2026-2027 timeframe.
For the immediate future, Eurocontrol's revised traffic forecast features a new baseline scenario where flight numbers are at 82% of 2019 levels in December this year. That baseline number is ahead of the previous best-case scenario figure – outlined in June this year – which only saw Europe reaching 79% of pre-crisis levels by the end of the year.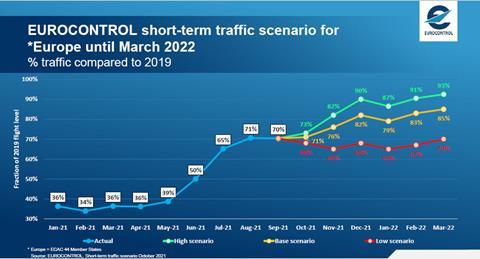 That follows a July-August period that saw data tracking Eurocontrol's previous best-case scenario. While Eurocontrol's latest data shows the recovery moderating slightly in September and October, figures are still way ahead of the previous baseline scenario.
Pre-pandemic, around 85% of the flights tracked by Eurocontrol were commercial airline passenger operations, with the rest accounted for by all-cargo, business aviation and non-scheduled services.
Eurocontrol's 41 member states cover most of Europe but do not include Russia.
Number of flights is just one measure of air traffic and tends to be more immediately available than other key metrics such as passenger numbers, load factors, available seat kilometres and revenue passenger kilometres.