Recently introduced airspace restrictions are adding up to seven hours to round-trip flight times between Europe and Asia, according to analysis of Flightradar24 data by Eurocontrol.
The changes reflect new flight patterns introduced after the closure of Russian and Belarusian airspace to many airlines in Europe, alongside decisions by some countries to avoid those airspaces voluntarily in response to security concerns amid Russia's invasion of Ukraine.
It remains to be seen how long the restrictions will last, but SAS chief executive Anko van der Werff recently suggested that "overflying Russia is not going to be [resolved in] a matter of months – I really feel it's going to be longer".
Finnair's home city of Helsinki is most affected among the four airports considered by Eurocontrol, reflecting an impact that tends to lessen the further south and away from Russia a European airline is based. Services to and from northeast Asia are, however, significantly affected across the board.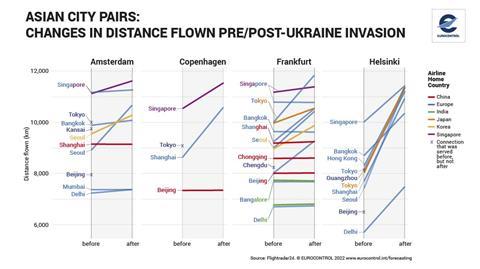 Indeed, the most extreme example considered in the Eurocontrol analysis is the Helsinki-Seoul route, which now takes around 12 hours, versus 8.5 hours before, in a journey distance that has risen from around 7,500km to 11,500km.
Finnair's strategy for maintaining its Asian network since the restrictions were introduced includes resorting to polar routes to reach destinations previously accessible via Russian airspace, such as Seoul and Tokyo Narita.
Already-lengthy flights from Helsinki to Singapore are some 1.25 hours longer, reflecting an extra 1,400km on the sector length.
Some routes have been dropped in response to the restrictions, Eurocontrol notes, including Finnair's Beijing services and SAS's Copenhagen-Tokyo flights.
"This decision is driven by passenger and cargo demand, additional fuel costs, constraints from scheduling, staffing and airports – available gates and curfews – and, in some cases, the capabilities of available aircraft, given the prevailing winds en route," says Eurocontrol.
Where flights are still operating despite the longer sector lengths, frequencies have fallen in many cases, Eurocontrol adds.
Flights to Shanghai and Singapore from Copenhagen are some 1,500km longer for carriers unable to access Russian and Belarusian airspace, data shows, while Lufthansa services between Frankfurt and Beijing are around 1,200km longer.
"Frankfurt is sufficiently far south that there is no additional flying to reach destinations in India and southeast Asia," Eurocontrol states.
The data shows carriers from Japan, Singapore and South Korea – which are avoiding Russian airspace – suffering longer flights alongside their European counterparts.
The impact of the situation on all affected operators – aside from an airline such as Finnair, for which Asia services are at the core of its strategy – is tempered by the fact that most were not yet relying on significant Europe-Asia connectivity for their near-term financial recoveries, in light of continued Covid-19 restrictions in the latter region.
With Russian airspace still open to Chinese carriers, flight times between China and Europe are unchanged. Given China's continued focus on a 'zero-Covid' approach, however, its airlines have a particularly limited scope to capitalise on this potential competitive advantage – on passenger services, at least.
On the cargo side of the industry, Eurocontrol gives the example of Air China Cargo's Copenhagen-Beijing route, which is "still able to fly Siberian routes, so there are no additional track miles".
European network manager Eurocontrol's analysis of the data considers the six weeks to 27 February 2022, then the five-to-six weeks that followed. It notes that "some larger routes have been omitted for clarity", meaning the analysis is not exhaustive.