IAG carriers British Airways and Iberia have been generating the majority of their passenger revenues from long-haul flights in recent months, driven by resilient demand for visiting friends and relatives (VFR) travel.
While long-haul travel has been particularly hard hit since the coronavirus crisis began, IAG points to resilient VFR traffic on long-distance routes in recent months even as travel restrictions have mounted. Set against the backdrop of reduced short-haul travel, it means long-haul is now driving the group's passenger revenues.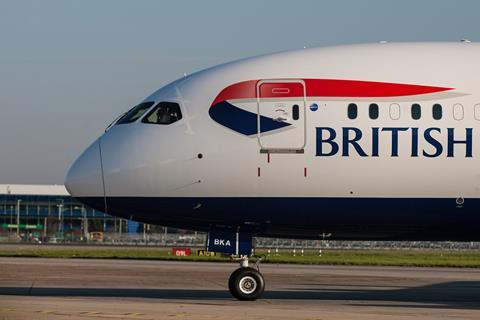 "Conventional wisdom is that long-haul travel is the weakest segment currently. That has not been our experience," said IAG chief executive Luis Gallego on a full-year results call today.
"Contrary to what some people think, long-haul bookings have outperformed international short-haul for IAG since September," he says.
In July and August long-haul accounted for around 40% of BA's passenger revenues and half of Iberia's. By January, almost 90% of BA's passenger revenues were generated from long-haul, and around two-thirds of Iberia's.
Gallego says: "Clearly North America, BA's biggest long-haul market, has been weak due to the restrictions, although North American routes have been a fairly constant 15-20% of BA revenue since July, and approximately 10% for Iberia.
"But other long-haul routes have been stronger, in particular Latin America, West Africa and the Indian sub-continent. Visiting friends [and relatives] traffic is a significant component of the traffic on these routes and this traffic has supported connecting traffic, despite local travel restrictions."
He adds: "VFR is currently the strong segment and is more relevant to long-haul than to short-haul. Long-haul leisure demand has proved to be just as pent-up as short-haul, especially this winter outside of lockdown. Caribbean, United Arab Emirates and Indian Ocean routes have been particularly strong for BA, and the Caribbean for Iberia.
"We have seen the people that want to see friends and relatives, they can tolerate more easily restrictions to travel or on movement at their destinations," he says.
By contrast, Gallego adds that restrictions on movement at destinations is limiting demand from customers wanting a holiday or break.
"In the case of work [travel], we think after the quarantine is removed, there are a lot of customers that are willing to travel…and there are lot of activities that require face-to-face meetings," he says.
IAG today posted an operating loss of €7.43 billion ($9.1 billion) for 2020 as it was forced to cut passenger capacity by two-thirds – though it was able to boost cargo revenues 17%. The group has not provided capacity guidance for 2021 beyond the first quarter.
"For the first quarter capacity is likely to be around 20% of 2019 levels," says Gallego. "We have very low expectations for Easter, which is normally a big period for travel. The outlook beyond the first quarter remains highly uncertain.
"The vaccination programmes in some of our main markets should lead to an improving recovery in international air travel as the year continues, as long as they are joined by the relaxation of border restrictions and quarantine requirements. However, the pace of re-opening international travel is still unclear. Should the situation worsen, you can be sure we will take further actions to cut expenses and boost liquidity."
IAG executives though point to pent-up demand for air travel, evident in booking spikes which have followed the ending of lockdown announcements – which it again reported after the UK Government recently outlined a preliminary roadmap for easing restrictions.
"We have seen in 2020 that there is a strong willingness to travel once restrictions have lifted," says Gallego. "The willingness of the people is there, but its true that the demand return is tied to the level of travel restrictions we have in place."
IAG chief financial officer Steve Gunning says: "We can ramp up pretty quickly. It varies by [operating company]. I think BA could ramp up to 70% of 2019 [capacity] by the summer, I think Vueling can ramp up much quicker than that and can probably get up to almost 100% of capacity.
"So our ability to ramp up if there was demand and restrictions and regimes is allowed, we could make the most of a strong summer period by putting capacity into the market."