A focus on tackling the mounting debt burden is likely to result in airlines adopting a more cautious approach to building back their networks post-pandemic, believes new IATA director general Willie Walsh.
Industry debt levels have risen sharply as airlines took action to bridge the revenue gap caused by the sharp fall in air travel during the pandemic. At the end of 2020, IATA estimated that airline industry debt levels had increased by more than $220 billion, to $651 billion – a figure that will have increased as carriers continue to burn cash while air travel markets remain largely closed.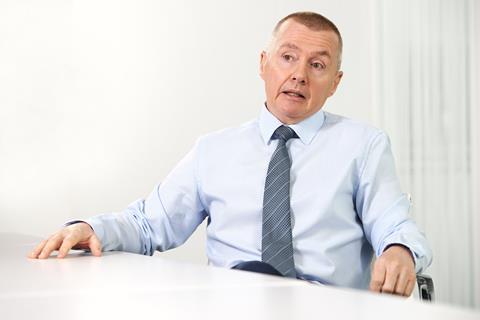 Speaking at the World Aviation Festival today, Walsh said increased debt levels will have an impact on the structure of the industry.
"It will certainly cause airlines to be more cautious in terms of how they rebuild their networks, because without question there will be parts of the global network that wont' be sustainable financially," he says.
"So people won't be prepared to take the risk in the short-term, because there will be a focus on rebuilding and correcting the balance sheets of airlines that have been significantly stressed. The debt burden airlines have taken on – and continue to take on – is massive.
Walsh adds: "It will take time to correct that and it has impacted on every airline, nobody has escaped this because pretty much nobody is flying where they thought they would be. So I think the industry will be a little more cautious as we rebuild."
While he sees network choices narrowed for a period of time post-pandemic, Walsh does not believe this will result in less competition.
"I've always said the airline industry is brutally competitive and I think its going to continue to be so," he says. "But there will be some airlines that unfortunately will significantly suffer and may not be in a position to survive if this crisis continues."
In many cases financial restructuring has involved governments becoming more involved and taking equity in national carriers.
However Walsh, citing his own experience running then state-owned Aer Lingus, does not believe this will result in changes to how carriers are managed given the competitive marketplace.
"I don't see [increased] government participation in equity, as part of the bail-out if you like, in any way influencing how management go about their business because… those airlines that aren't suffering to the same degree or haven't had government participation in their equity, will have total freedom to do what they have always done – answering to their shareholders," he says.
Speaking at the same event on 19 April, Ben Smith, chief executive of Air France-KLM – in which the the French state is set double its stake as part of a €4 billion ($4.7 billion) recapitalisation of Air France – argued that state involvement in the group is mitigated by its strategy being "fully aligned" with the government's needs for the sector.