Airline trade group IATA has criticised Latin American governments for essentially leaving their airlines out to dry as coronavirus devastates the industry. The group is also questioning when the sector will return to pre-virus strength and whether all carriers will survive the pandemic.
Peter Cerda, IATA's vice-president for Latin America, says in a 28 May webcast that the region's governments have provided less than 1% of the airlines' 2019 operating revenue in financial aid, making it the least-supportive region in the world. While governments on other continents have stepped in with hefty aid packages to help their airlines manage through the crisis – totalling about $123 billion globally - South American governments have notably been lagging, he says.
"Our region is at a significant disadvantage," Cerda says, noting that the virus will cause air travel in many South American countries to essentially cease for four or more months. China and countries in Europe dealt with a two-month hiatus before the airlines saw an uptick in bookings and larger numbers of passengers began considering travel.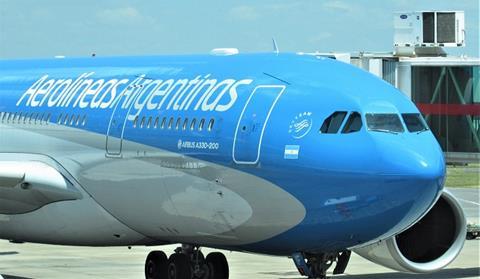 At the moment, much of South America has stark travel restrictions in place, with most countries planing to open in coming weeks. Notable outliers are Colombia and Argentina, which have basically halted passenger air transport operations until 31 August and 1 September, respectively.
"This is having a significant burden on the airline industry. There's just not enough cash in their banks to sustain more than two to three months of what is practically a 93% schedule stoppage. That's why we need the governments in our region to step up to the plate and provide that financial support that is needed to safeguard air travel in the region," Cerda says. The industry supports about 7.2 million jobs in Latin America, according to the organisation.
IATA's complaint comes as two of the continent's major airlines, Colombia's Avianca and Chile-based LATAM filed for bankruptcy protection earlier this month. Both airlines have cited liquidity issues as the main motivator in taking this step. Bankruptcy protection will help them prevent creditors from seizing aircraft and better ensure they can restart operations when passenger demand recovers.
Cerda says there will likely be more airline victims before the crisis ends.
"As the days continue and the pandemic is not resolved, and we continue to have the industry on the ground, we are going to be seeing more and more airlines having to go through reorganisation, or Chapter 11. We are also going to have airlines that do not have the resources to be able to restructure, and they will close down," Cerda says. "That is a reality. The longer this crisis continues, the longer the airlines are on the ground, the greater the risk. You will have airlines that just cease to operate."
A return to 2019 domestic travel numbers in South America could occur "sometime in 2022", with international travel returning two years later, he adds. "There is a long road ahead for the industry to recuperate the numbers that we had in 2019."
Several weeks ago, IATA called on the governments of the region to coordinate timelines and harmonise processes in order to make the return to some semblance of normalcy across as seamless as possible. It published a multi-point restart plan that includes guidelines aimed at every stage of the air travel process.
The plan promotes expanded use of technologies like electronic boarding passes, mobile check-in, home baggage tagging and biometric screening in order to help reduce person-to-person interactions. It does not call for leaving middle seats empty in economy class, as that could "fundamentally shift the economics of flying by slashing load factors".
IATA adds it is working with individual countries to see what kind of support is possible considering specific macroeconomic situations and the political feasibility. Mexico, for example, had said early in the crisis it would not provide relief to companies in the private sector.
There are other ways IATA is lobbying authorities to lessen burdens on airlines and travellers. These include calling for reductions in ancillary airport charges and for temporary waivers of fees and other government-imposed levies on tickets.
Cerda said the group is also in close discussions with the government of Argentina, to push for a more favourable re-start date.