IATA expects cargo demand will remain strong after global air freight volumes increased 9.4% in May over pre-crisis levels.
While the increase represents a slight slowing on the 11.3% rise in cargo volumes reported in April, it marks another month of strong performance for air freight, a sector that has thrived since the pandemic.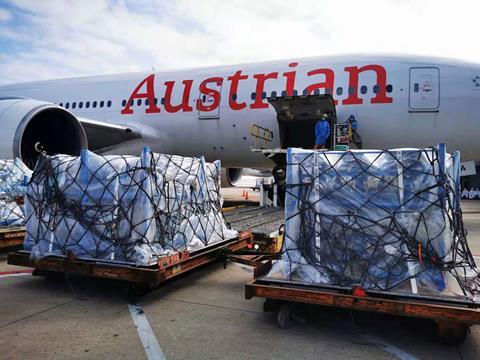 The higher volumes come despite capacity levels being almost 10% below that of May 2019 – reflecting less belly-hold cargo capacity as travel restrictions continue to stifle passenger demand.
"What we are seeing is the advantage of air cargo over sea cargo, not just in terms of time," said IATA director general Willie Walsh during a media briefing today. He also cites improved price competitiveness. IATA says air freight is six times more expensive than sea shipping, compared with 12 times more expensive before the pandemic.
IATA figures show cargo volumes increasing in all regions except the relatively small Latin American market. That includes a sharp jump in North American cargo traffic, accounting for almost half the 9.4% increase reported in May.
Walsh adds: "Underlying economic growth is strong. In the main, we expect that to continue. Maybe not as strong as we have seen, but there is no indication of any slowdown in the demand for air cargo."
Neither does he see returning passenger aircraft, bringing with it the return of more belly capacity, as having a major impact near term.
"Traditionally, about 45% of air cargo travels in the belly hold, almost exclusively on widebody long-haul aircraft. That's the area of the business that has been most disrupted by government restrictions.
"As we see the market recover, we will see more capacity become available. But actually demand remains quite strong and healthy."