IATA director general Willie Walsh has described as a "step in the right direction" comments from European Commission president Ursula von der Leyen indicating the EU would grant unrestricted access to vaccinated visitors from the USA.
In an interview with the New York Times on 25 April, Von der Leyen said that because the US authorities have been using European Medicines Agency (EMA)-approved vaccines, it will enable free movement and travel to the EU.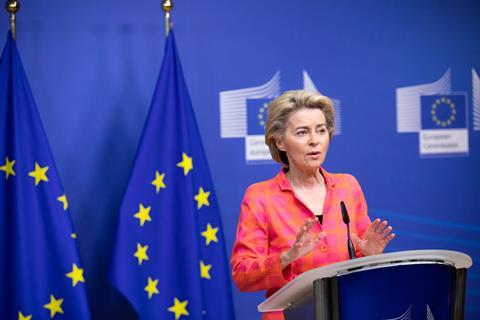 "All 27 member states will accept, unconditionally, all those who are vaccinated with vaccines that are approved by EMA," she says.
Transatlantic traffic has been running at about 10% of 2019 levels during the first half because of continued travel restrictions. IATA, in deepening its losses outlook for the airline industry this year, is projecting some pick-up of transatlantic operations during the second half because of the progress of vaccination programmes in the USA and Europe. However, it still sees traffic at around only 50% of 2019 levels later this year.
While encouraged by Von der Leyen's comments, Walsh says details of the Commission's intentions are essential.
"To be fully prepared, it is imperative that the EC works with the industry so that airlines can plan within the public health benchmarks and timelines that will enable unconditional travel for those vaccinated, not just from the US but from all countries using vaccines that are approved by the European Medicines Association.
"Equally critical will be clear, simple and secure digital processes for vaccination certificates," Walsh adds, highlighting IATA's Travel Pass as one of the initiatives that can facilitate this.
"But we are still awaiting the development of globally recognised standards for digital vaccine certificates. As a first step, it is vital that the EU accelerates adoption of the European Green Certificate. President Von der Leyen's comments should add urgency to this work," says Walsh.
The IATA chief adds travel should not be blocked for those who are unable to be vaccinated, arguing that presentation of a negative rapid antigen Covid-19 test should also enable travel.
"The freedom to travel must not be restricted to only those who have access to vaccinations," says Walsh. "Vaccines are not the only way to safely re-open borders. Government risk-models should also include Covid-19 testing."