Rumours are swirling that Argentina's government might push back its plan to reopen the country to air travel on 1 September, throwing uncertainty around carriers' plans to resume operations to the country.
"We still have 1 September as the official restart… We have not been notified of any changes," IATA's Americas vice-president Peter Cerda told reporters on 20 August. "We have heard as an industry… that there is a strong possibility that it might be delayed."
He adds that rumours suggest "a possible postponement" to the restart of domestic and international flights to Argentine cities.
"We are still waiting for news," Cerda adds.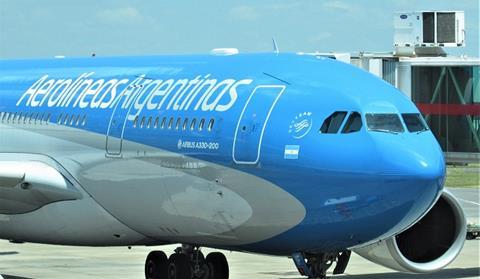 Before the pandemic, Argentina was Latin America's fifth-largest air travel market behind Brazil, Mexico, Colombia and Chile, Cirium schedules data shows.
But in response to the pandemic, Argentina closed its skies to most commercial air traffic until 1 September. The measures are considered among the most-restrictive in Latin America and have been railed against by IATA.
The group has warned that Latin American airlines are suffering dire consequences from travel restrictions. Aeromexico, Colombia's Avianca and Chile's LATAM Airlines Group have already filed for bankruptcy court protection.
Cerda insists the world's airlines have established effective "protocols" that will ensure safe reopening of air travel.
"We have to restart as soon as possible," he says.
Argentina's civil aviation authority did not respond immediately to a request for comment.
Earlier this month, Argentina's ministry of transport said the country may continue to restrict travel for up to 60 additional days.
The uncertainty comes as "airlines are already taking measures to restart" operations in Argentina based on the 1 September date, Cerda says. "Their flights are being sold. If there is an adjustment to that restart we will have to accommodate the passengers."
Some 25 airlines have scheduled a combined 8,800 flights to Argentine destinations in September, according to Cirium.
Those carriers include domestic operators like Aerolineas and a long list of foreign airlines, such as Air France, American Airlines, British Airways, Copa, Delta Air Lines, Ethiopian Airlines, Iberia, LATAM and Avianca, data shows.
Argentina has allowed some flights during the shutdown. Those include repatriation flights, according to the US Department of State.
According to Cirium, twelve airlines have scheduled a combined 109 flights to Argentine cities in August.