Italy's civil aviation authority is meeting with Ryanair on 16 September to discuss allegations of non-compliance with the country's coronavirus-related health measures.
ENAC notes that despite speaking to the airline about similar issues in early August, it is still receiving "reports regarding Ryanair's incomplete compliance with the provisions planned in Italy to limit the health risk derived from coronavirus on board the aircraft departing and arriving at national airports".
The previous allegations – denied by the Irish carrier – included claims from ENAC that social-distancing requirements were not being met, and came with a threat that Ryanair's Italian services could be suspended.
This time, the authority will also "verify compliance" by Ryanair with the requirement that all passengers complete Covid-19 self-declaration forms, noting that the lack of adherence contributes to the lengthening of the checking process at airports.
It cites Milan Bergamo airport – Ryanair's largest Italian base – where passengers have been waiting for excessive periods inside the facility in recent days, ENAC claims, "as evidenced by videos".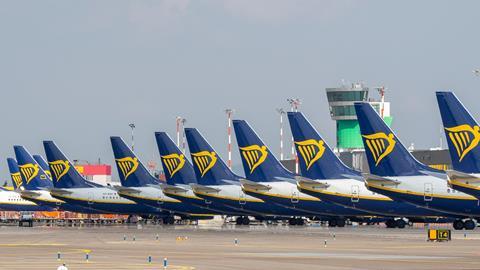 Before they travel to Italy, passengers are required to download and complete a self-declaration form supplied by the Ministry of Interior, which is meant to be collected by the airline and may be requested by border police.
By signing the form, passengers agree to measures including the wearing of face masks on board aircraft and in airports.
Ryanair has been contacted for comment.